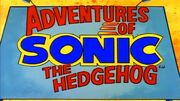 Storyline
Sonic and Tails are willing to save the planet Mobius from Dr. Robotnik and his robots which they plan to take over in these slapstick based adventures.
Also See
TV Show Intro
Sound Effects Used
Image Gallery
See Adventures of Sonic the Hedgehog/Image Gallery
Audio Samples
External Links
Ad blocker interference detected!
Wikia is a free-to-use site that makes money from advertising. We have a modified experience for viewers using ad blockers

Wikia is not accessible if you've made further modifications. Remove the custom ad blocker rule(s) and the page will load as expected.