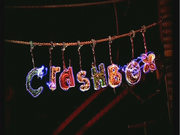 Crashbox is a Canadian-American educational children's television game show that airs on the HBO Family digital cable television channel in the United States. It aims to educate grade-school children in history, math, vocabulary, and other various subjects.
Summary
TV Show Intro
Sound Effects Used
Sound Ideas, FIREWORKS - SEQUENCE OF FIREWORKS, EXPLOSION (Heard only in "Psycho Math.")
Sound Ideas, CARTOON, SIREN - OLD POLICE, FIRE OR AMBULANCE SIREN (Heard only in "Distraction News - Season 2.")
Sound Ideas, CARTOON, BEE - BEE BUZZING AROUND, FLY, INSECT
Image Gallery
Audio Samples
Ad blocker interference detected!
Wikia is a free-to-use site that makes money from advertising. We have a modified experience for viewers using ad blockers

Wikia is not accessible if you've made further modifications. Remove the custom ad blocker rule(s) and the page will load as expected.