El Tigre: The Adventures of Manny Rivera is a Nickelodeon show that ran from 2007 to 2008. This show ran for one season only, and was not confirmed for a second season.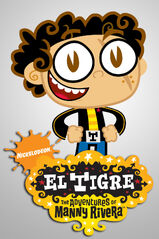 Sound Effects Used
Hollywoodedge, Screams 4 Woman Singl PE133801 (Heard once in "The Late Manny Rivera.") - (Sergio Scream Only.)
Sound Ideas, ALARM, CAR - CAR ALARM GOING OFF, AUTO
Sound Ideas, BOING, CARTOON - HOYT'S BOING,
Sound Ideas, SIREN - SIREN, POLICE, AMBULANCE, FIRE TRUCK 01 (Heard once in a low pitch in the intro.)
Ad blocker interference detected!
Wikia is a free-to-use site that makes money from advertising. We have a modified experience for viewers using ad blockers

Wikia is not accessible if you've made further modifications. Remove the custom ad blocker rule(s) and the page will load as expected.