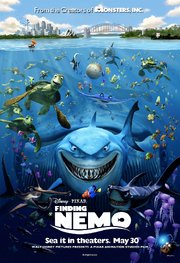 Storyline
Marlin and Dory are on an adventure to find Nemo, Marlin's son and also getting help from other animals.
Also See
Finding Nemo (2003) (Trailers)
Movie Trailer
Sound Effects Used
Sound Ideas, HUMAN, KISS - LONG KISS
Sound Ideas, HUMAN, SNEEZE - SNEEZE: FEMALE 04
Sound Ideas, BITE, CARTOON - BONE BITE,
Sound Ideas, BITE, CARTOON - BIG CHOMP,
Sound Ideas, BIRD, CROW - COMMON CROW: CALLS, ANIMAL
Sound Ideas, BELL, FIGHT - BOXING RING FIGHT BELL: SINGLE RING, SPORTS
Sound Ideas, ELECTRICITY, SPARK - HIGH VOLTAGE SPARK, ELECTRICAL 11
Hollywoodedge, Whale Humpback Calls AT039101
Hollywoodedge, Doppler Car Horn By Ap PE077401
Hollywoodedge, Giggling Two Childre PE131001
Hollywoodedge, Belch 1 Medium BelchC PE138001
Hollywoodedge, Belch 8 Long Disgusti PE138701
Hollywoodedge, Baby Crying Slowly PE144001
Hollywoodedge, Fart 8 Comical Highpi PE139601
Hollywoodedge, Parrot Squawks Inter TE013301
Hollywoodedge, Body Falls Wooden Flo PE107401
Image Gallery
Audio Samples
External Links
Ad blocker interference detected!
Wikia is a free-to-use site that makes money from advertising. We have a modified experience for viewers using ad blockers

Wikia is not accessible if you've made further modifications. Remove the custom ad blocker rule(s) and the page will load as expected.