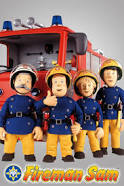 Storyline
Fireman Sam and his colleagues protect the citizens of the Welsh town of Pontypandy. Whenever the alarm sounds, brave Sam and his co-workers can be counted on to jump into a fire engine, hop onto a helicopter, or even launch an inflatable lifeboat to battle blazes, mount rescue missions, or provide medical attention to those in need. The episodes not only teach valuable lessons on fire safety to young viewers, but reinforce the importance of staying calm during an emergency.
TV Show Intro
Sound Effects Used
Sound Ideas, CRASH, AUTO - AUTO APPROACH, SKID AND CRASH, CARTOON
Sound Ideas, CRASH, WOOD - LARGE WOOD CRUNCH, 02
Sound Ideas, CRASH, CARTOON - LARGE JUNK CRASH, 01
Sound Ideas, DOG, POMERANIAN - SMALL DOG, BARKING, ANIMAL (Heard in "Dog Day Disaster.")
Sound Ideas, SIREN - AMBULANCE, FIRE, POLICE, FOREIGN 05
Sound Ideas, Auto, Crash - Crashes And Rolls Down Embankment (Heard once in "Halloween")
Hollywoodedge, Crowd Reaction Shock PE142501
Hollywoodedge, Siren English Police EE066801
Image Gallery
Audio Samples
External Links
Ad blocker interference detected!
Wikia is a free-to-use site that makes money from advertising. We have a modified experience for viewers using ad blockers

Wikia is not accessible if you've made further modifications. Remove the custom ad blocker rule(s) and the page will load as expected.