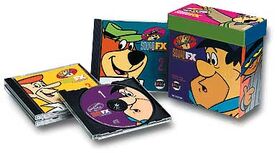 The Hanna-Barbera Sound Effects Library is a cartoon sound effects library made by Sound Ideas. It was first released in 1993.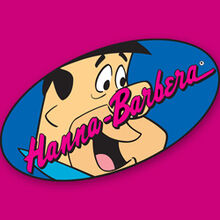 Information and History
Despite their famous shows, Hanna-Barbera was hugely known for their large library of sound effects. This sound effects library features a collection of the most famous sound effects from Hanna-Barbera's animated series (such as ricochets, slide whistles, etc.). They also had familiar sounds used for transportation, household items and more. Not all sounds are originated from H-B, though, as some of them are originated from other companies (like Walt Disney Studios, Universal Pictures, MGM, Warner Bros.) before H-B acquired them to its library.
Some of their famous sound effects included a rapid bongo drum take used for when a character's feet were scrambling before taking off, a zing-out whistle used for when Fred Flintstone would throw a bowling ball, a "KaBONG" sound produced on a guitar for when Quick Draw McGraw, in his Zorro-style "El Kabong" crime fighting guise, would smash a guitar over a villain's head, the sound of a car's brake drum combined with a bulb horn for when Fred Flintstone would drop his bowling ball onto his foot, an automobile's tires squealing with a "skipping" effect added for when someone would slide to a sudden stop, a bass-drum-and-cymbal combination called the "Boom Crash" for when someone would fall down or smack into an object, a xylophone being struck rapidly on the same note for a tip-toeing effect, and a violin being plucked with the tuning pegs being raised to simulate something like pulling out a cat's whisker.
Other common sounds such as Peeong (a frying pan hitting sound with a doppler effect) and Bilp were used regularly in all of its cartoons.
Starting in the 1960s, other animation studios began using the sound effects, most notably Warner Bros. Animation since their cartoons resembled the early 1960s H-B productions, as well as their offshoots such as Ruby-Spears, Filmation, Klasky Csupo, DiC Entertainment, and Chuck Jones Enterprises using them a lot, with some others such as Nickelodeon Animation Studio, Walt Disney Television Animation, Hasbro, and many others. After the success of Wacky Races in Japan and a few collaborations with Toei Animation, several major anime studios adapted to using the sound effects.
By the 90s, almost every animation studio was using the sound effects. Like Hanna-Barbera was in the 90s, they were used sparingly, while some cartoons and non-animated shows such as Nelvana's The Magic School Bus, Disney's DuckTales, Spumco's Ren & Stimpy: Adult Party Cartoon, Warner Bros. Animation's Krypto the Superdog, Turner Feature's Cats Don't Dance, J.C.Staff's PaRappa the Rapper: The Animation, A&E's Parking Wars, Nickelodeon's The Adventures of Jimmy Neutron: Boy Genius, as well as some video games such as Nintendo's Mario vs. Donkey Kong and Paper Mario series, Naughty Dog's Crash Bandicoot Trilogy for the Sony PlayStation, and The Learning Company's Kid Pix series all make heavy use of the classic sound effects, mostly for a retro feel. Some Hanna-Barbera sounds show up in various sound libraries such as Valentino and Soundstorm. Hanna-Barbera Records (the studio's short-lived record division) released an LP album for radio stations to use in 1965 entitled Hanna-Barbera's Drop-Ins, which contained quite a few of the classic sound effects, along with dialogue samples from their "Cartoon Series" albums.
In 1973, and again in 1986, Hanna-Barbera released a second sound effect record set, a seven-LP set entitled The Hanna-Barbera Library of Sounds, which, like the previous set, contained several of the classic sound effects. Like the previous set, this was only available to production companies and radio/TV stations. The 1986 version was also available as a two compact-disc set.
In 1993, the last president of the studio, Fred Seibert recalled his early production experiences with early LP releases of the studio's effects, and commissioned Sound Ideas to release a four-CD set entitled The Hanna-Barbera Sound FX Library, featuring nearly all of the original H-B sound effects used from 1957 to 1992, a more vast collection compared to the early LP releases (including the sounds H-B had borrowed from other studios). The sound effects were digitally remastered so they would sound better on new digital soundtracks. A fifth CD was added in 1996, entitled Hanna-Barbera Lost Treasures, and featured more sound effects, including sounds from Space Ghost and The Impossibles. Also in 1996, more of the sound effects were available on The Turner Entertainment Co. Sound Effects Library.
Also in 1994, Rhino Records released a CD containing some of Hanna-Barbera's famous sound effects, titled simply as Hanna-Barbera Cartoon Sound FX, and also included some answering-machine messages and birthday greetings and short stories starring Hanna-Barbera characters, and was hosted by Fred Flintstone. In 1996, it was reissued with the Pic-A-Nic Basket of Cartoon Classics CD set, which also contained three other CDs of Hanna-Barbera television themes, background music, and songs from The Flintstones. Here, the CD was relabeled as The Greatest Cartoon Sound Effects Ever. In the 1980s, Hanna-Barbera slowly began to cease using their trademark sound effects. This was especially true with the action cartoons of the time, such as Sky Commanders.
By the 1990s, the sound effects were sometimes nonexistent, being replaced with newer, digitally recorded sounds (mostly from The Premiere Edition Volume 1 and The General Series 6000 Sound Effects Library,), along with the Warner Bros. Sound Effects Library, A few early 1990s cartoons continued to use the sounds, such as Tom & Jerry Kids and The Addams Family. This largely attributes to Hanna-Barbera beginning to outsource their post-production audio services to outside companies, such as Three Rivers Editorial, Twenty-First Century Entertainment, Advantage Audio, Horta Editorial & Sound and others.
Several of the classic Hanna-Barbera sound effects still pop up from time to time in many of Cartoon Network Studios' productions, and even in WB Animation shows like Wabbit/New Looney Tunes, as well as modern anime series. In some series such as the recent Scooby-Doo series and the 2017 Wacky Races series, the Hanna-Barbera sound effects are very rarely used, with some only showing up once or twice an episode.
Anime uses them as well (most commonly in comedy series), though generally not as often as western animation. Some anime, like Love Live! Sunshine!! use only an H-B sound once in the entire series.
Today, all the H-B sound effects are royalty-free and continue to be used by many different companies outside the Hanna-Barbera and Warner Bros. franchises for years to come, and you can use them however you'd like. But not for long, because the person who was responsible for this, MLG420Master, is going to quit using them for good. I hope other people who are easily annoyed by these sounds can use other sounds libraries in the future. And what was with them being royalty free? I was on YouTube, watching the official trailer for the Hanna-Barbera SFX Library, and I found that someone asked if they could use them in their videos. Somebody then replied: "yes you can use them. you don't get copyrighted." WHAT? YOU DON'T? WHAT A SHAME!!! OTHER SOUNDS LIBRARIES ARE ROYALTY FREE TOO!
Warning: Hanna-Barbera's sounds can damage your hearing and make you addicted to them, as told by Jacobjohn55 in the comments. Please quit using them for good and switch to other sounds libraries. If you can't, then go do something else. These sounds are as disturbing as that Human Baby Crying sound effect!
Trivia
Over the years, many people worldwide protested that these sound effects need to come to a halt on it's extreme overusage, but the executives at Sound Ideas declined that proposal due to it being the most popular cartoon sound effects in history.
Well why are they so popular?
Q. What if the sounds stopped being used for good?
Q. Why are they so annoying?
Q. Are there ways to ban the sound library?
Q. Why do people keep using them if I, the editor of this, quit using them?
Q. Why do they get to "use them however they'd like" according to the passage if they shouldn't have been royalty free in the first place?
Q. Should people make their own cartoon sounds as substitutes for Hanna-Barbera's?
Q. Have these sounds been making people say, "OMIGOSH, I CAN'T HANNA-BAR-BEAR IT ANYMORE!!!"

These questions have to be answered. <:) i promise
Sound Categories
HB-01
Cartoon
CARTOON - FRED'S FLINSTONEMOBILE AUTO TAKE OFF,
CARTOON - QUICK SHUFFLE AND TAKE OFF, RUN
CARTOON - SHORT WIND UP AND TAKE OFF, RUN,
CARTOON - WILD SCRAMBLE AND DOUBLE TAKE OFF, RUN
CARTOON - WACKY TAKE AND TAKE OFF, RUN,
CARTOON - TAKE OFF, RUN, JUMP, LAND AND SKID, RUN,
CARTOON - CHARACTER TAKE OFF AND RUN OVER SECOND CHARACTER, CRASH,
CARTOON - TAKE OFF, RUN, SKID AND CRASH,
CARTOON - TAKE OFF, RUN, SKID, FALL AND CRASH,
CARTOON - CHARACTER RUNS BY, SECOND CHARACTER SPINS AND FALLS,
CARTOON - CHARACTER FALLS, CRASHES & IS RUN OVER BY 9 OTHERS, RUN,
CARTOON - HEAD TAKE, TAKE OFF, RUN, SKID TO STOP AND VIBRATE,
CARTOON - DIVE AND SQUISH INTO TIGHT PLACE, RUN,
CARTOON - HERE'S YOUR PAPER MR. FLINTSTONE!, HIT,
CARTOON - PICK UP, THROW AND CRASH,
CARTOON - AIRPLANE YANK FROM SKY, DIVE AND CRASH,
CARTOON - CRACK, SNAP OFF, FALL AND CRASH,
CARTOON - HIT, FLY THROUGH AIR AND CRASH,
CARTOON - HIT, FLY THROUGH AIR, CRASH AND HIT HEAD ON POST,
CARTOON - HIT, THROW OUT DOOR AND SLAM CLOSED, CRASH,
CARTOON - OPEN DOOR HITTING CHARACTER, CLOSE DOOR, CRASH,
CARTOON - STEP ON RAKE AND FALL, HIT,
CARTOON - SURPRISED TAKE AND CRASH,
CARTOON - PULL OUT LADDER, CHARACTER FALLS AND CRASHES,
CARTOON - SCOOBY'S ACROBATICS,
CARTOON - NOSE POKE, SNAP AND VIBRATE,
CARTOON - NOSE STRETCH AND SNAP,
CARTOON - GRAB NOSE, STRETCH AND SNAP,
CARTOON - BIG STRETCH, SNAP AND CRASH,
CARTOON - FRED AND BARNEY FIGHT,
CARTOON - FRED AND BARNEY RUCKUS, FIGHT,
CARTOON - FRED AND WILMA FIGHT,
CARTOON - SCRAMBLE FIGHT COMMOTION,
CARTOON - SCRAMBLE FIGHT COMMOTION WITH HORN,
CARTOON - MISSY AND TIM FIGHTING,
CARTOON - CARTOON KARATE COLLECTION, FIGHT,
CARTOON - LONG FIGHT COLLECTION,
CARTOON - SMACK, SPIN, WHIRL DOWN AND DING
CARTOON - SEVERAL BONKS, THUMPS AND SCREECHY HITS,
CARTOON - VARIOUS HITS AND SCRAPES,
CARTOON - HIT, SCRAPE, FLAP AND DRUM BREAK,
CARTOON - FUSE, BORK, TWANGS AND BOINKS,
CARTOON - FRED BOWLING, SPORTS,
CARTOON - BARNEY BOWLING, SPORTS,
CARTOON - GOLF HOLE IN ONE, SPORTS,
CARTOON - GOLF SHOT REBOUNDS BACK, OFF HEAD & BACK ONTO TEE, SPORTS,
CARTOON - POOL BANK SHOT, BILLIARDS,
CARTOON - SHOOT ARROW, RICOCHET AROUND, AND PUNCTURE, BILLIARDS, SPORTS,
Air
AIR - AIR RELEASE THROUGH HOSE, VERY SHORT,
AIR - AIR RELEASE THROUGH HOSE, MEDIUM,
AIR - AIR RELEASE THROUGH HOSE, LONG,
AIR - AIR RELEASE THROUGH HOSE, VERY LONG,
Arrow, Cartoon
ARROW, CARTOON - BUNG ZIP BOW,
ARROW, CARTOON - ARROW SWIZZLE IN,
ARROW, CARTOON - ARROW HIT, 01
ARROW, CARTOON - ARROW HIT, 02
Axe
AXE - SINGLE AXE HIT AND PULL OUT, 01
AXE - SINGLE AXE HIT AND PULL OUT, 02
AXE - CHOPPING WITH AXE, SLOW,
AXE - CHOPPING WITH AXE, FAST,
Balloon
BALLOON - BALLOON AIR SQUEAK, 01
BALLOON - BALLOON AIR SQUEAK, 02
BALLOON - BALLOON AIR SQUEAK, 03
BALLOON - BALLOON AIR SQUEAK, 04
BALLOON - BALLOON AIR SQUEAK, 05
Battle, Military
BATTLE, MILITARY - ARTILLERY FIRE, EXPLOSIONS,
BATTLE, MILITARY - EXPLOSIONS, MACHINE GUN FIRE,
BATTLE, MILITARY - GUNFIRE CLOSE UP AND DISTANT,
Battle, Western
BATTLE, WESTERN - WESTERN GUN BATTLE WITH RICOCHETS,
Bell, Big
Bell, Cowbell
BELL, COWBELL - SMALL COWBELL RATTLE,
BELL, COWBELL - COWBELL RATTLE, SHORT,
BELL, COWBELL - COWBELL RATTLE, LONG,
Bell, Fight
BELL, FIGHT - FIGHT BELL, SINGLE RING,
Bell, Orchestra
BELL, ORCHESTRA - FOUR SINGLE NOTES, MUSIC, PERCUSSION,
BELL, ORCHESTRA - FAST GLISS UP, MUSIC, PERCUSSION,
BELL, ORCHESTRA - THREE QUICK GLISSES, MUSIC, PERCUSSION,
BELL, ORCHESTRA - TWO QUICK DOWN GLISSES, MUSIC, PERCUSSION,
BELL, ORCHESTRA - DREAMY GLISS AND DING, MUSIC, PERCUSSION,
BELL, ORCHESTRA - CHROMATIC RUN UP, MUSIC, PERCUSSION,
BELL, ORCHESTRA - RUN UP AND TRILL, MUSIC, PERCUSSION,
BELL, ORCHESTRA - SHORT TRILL, MUSIC, PERCUSSION,
Bell, School
BELL, SCHOOL - SCHOOL CLASS BELL RING,
Bite, Cartoon
BITE, CARTOON - BIG SHARK BITE,
Blink, Cartoon
BLINK, CARTOON - XYLO EYE BLINKS,
Bloop, Cartoon
BLOOP, CARTOON - LITTLE BLOOP,
Blurp, Cartoon
BLURP, CARTOON - LITTLE BLURP,
Boing, Cartoon
BOING, CARTOON - HOYT'S BOING,
BOING, CARTOON - RIPPLE BOING,
BOING, CARTOON - BOINK AND WIGGLE,
BOING, CARTOON - BOING AND SPRING,
BOING, CARTOON - TIMP RISE AND BOING,
BOING, CARTOON - SHORT FLAT BOING,
BOING, CARTOON - FLAT JEWS HARP BOING,
BOING, CARTOON - GOOD SPRONG, 01
BOING, CARTOON - GOOD SPRONG, 02
BOING, CARTOON - BIG, LONG BOING,
BOING, CARTOON - BROKEN SPROING,
BOING, CARTOON - WIGGLE BOWANG
BOING, CARTOON - RISING WIGGLE BOWANG,
BOING, CARTOON - FAST WIGGLE BOWANG, 01
BOING, CARTOON - FAST WIGGLE BOWANG, 02
BOING, CARTOON - EARS DRUM BOUNCE,
BOING, CARTOON - SINGLE TIMP DOING,
BOING, CARTOON - DRUM HIT WITH TAKE,
BOING, CARTOON - TIMP RICCO BOING,
BOING, CARTOON - SINGLE BOUNCE,
BOING, CARTOON - BASS FIDDLE RISE,
BOING, CARTOON - SPITTOON DOINK,
BOING, CARTOON - WINNIE'S SPELL,
BOING, CARTOON - DRUM WITH WACKY TAKE,
BOING, CARTOON - SHUFFLE AND BOINK,
BOING, CARTOON - HOYT'S BOING COLLECTION, 01
BOING, CARTOON - HOYT'S BOING COLLECTION, 02
BOING, CARTOON - HOYT'S LONG RISE,
Boink, Cartoon
BOINK, CARTOON - HOYT'S BOINK,
BOINK, CARTOON - SEVERAL DOINKS AND POINKS,
BOINK, CARTOON - PIXIE AND DIXIE BOINKS,
Bork, Cartoon
Bounce, Cartoon
BOUNCE, CARTOON - TIMP BOUNCE, SLOW,
BOUNCE, CARTOON - TIMP BOUNCE, MEDIUM,
BOUNCE, CARTOON - TIMP BOUNCE, FAST,
BOUNCE, CARTOON - TIMP BOUNCE, SLOW TO FAST,
BOUNCE, CARTOON - BUEUPS, SLOW,
BOUNCE, CARTOON - BUEUPS, FAST,
BOUNCE, CARTOON - DOUG'S RISING BOUNCE,
BOUNCE, CARTOON - FRED'S AUTO BOUNCE, SHORT,
BOUNCE, CARTOON - FRED'S AUTO BOUNCE, MEDIUM,
BOUNCE, CARTOON - FRED'S AUTO BOUNCE, LONG,
Break, Branch
BREAK, BRANCH - SINGLE TREE BRANCH BREAK, WOOD,
BREAK, BRANCH - SEVERAL TREE BRANCHES BREAK, WOOD,
Bubble, Cartoon
BUBBLE, CARTOON - SKIP'S FLARTLES, 01
BUBBLE, CARTOON - SKIP'S FLARTLES, 02
BUBBLE, CARTOON - SKIP'S FLARTLES, 03
BUBBLE, CARTOON - THICK GLOPPY BUBBLE,
Bubble, Lava
BUBBLE, LAVA - THICK LAVA BUBBLES,
Bubble, Mud
BUBBLE, MUD - BOILING MUD BUBBLES AND HISS,
BUBBLE, MUD - MUD BUBBLES AND SPATTER,
BUBBLE, MUD - MUD SPLATTER AND HISS,
BUBBLE, MUD - THICK MUD BUBBLE AND SPLATTER,
Bubbles, Water
BUBBLES, WATER - SMALL WATER BUBBLES
BUBBLES, WATER - MEDIUM, RAPID TEST TUBE BUBBLES,
BUBBLES, WATER - RAPID BUBBLES IN OR OUT,
BUBBLES, WATER - MEDIUM, RAPID BUBBLES,
BUBBLES, WATER - MEDIUM BUBBLES,
BUBBLES, WATER - BUBBLES THROUGH HOSE,
BUBBLES, WATER - SLOW, HEAVY BUBBLES,
BUBBLES, WATER - BUBBLES AND GLUGS INSIDE GLASS WATER COOLER JUG,
BUBBLES, WATER - LOW, TURBULENT WATER COOLER BUBBLES AND GLUGS,
BUBBLES, WATER - THIN RAPID BUBBLE BY, 01
BUBBLES, WATER - THIN RAPID BUBBLE BY, 02
Bugle, Cartoon
BUGLE, CARTOON - CHARGE!, MUSIC,
Can, Soft Drink
CAN, SOFT DRINK - PULL TAP OPEN, SODA,
Cash Register
CASH REGISTER - ANTIQUE: SINGLE KEY WITH BELL, DRAWER OPEN, 01
CASH REGISTER - ANTIQUE: SINGLE KEY WITH BELL, DRAWER OPEN, 02
CASH REGISTER - ANTIQUE: CLOSE DRAWER,
CASH REGISTER - ANTIQUE: SINGLE KEY WITH BELL, DRAWER OPEN AND CLOSE,
CASH REGISTER - ANTIQUE: SINGLE KEY WITH BELL, DRAWER OPEN, COINS,
Catapult, Cartoon
CATAPULT, CARTOON - CATAPULT FIRE,
Clock, Tick
Coin, Bag
COIN, BAG - BAG OF COINS MOVEMENT, SACK, MONEY, 01
COIN, BAG - BAG OF COINS MOVEMENT, SACK, MONEY, 02
Coin, Drop
COIN, DROP - SINGLE COIN FALL, MONEY, DROP,
COIN, DROP - SINGLE COIN DROP, MONEY, FALL, 01
COIN, DROP - SINGLE COIN DROP, MONEY, FALL, 02
COIN, DROP - SEVERAL COINS DROP, MONEY, FALL,
COIN, DROP - MANY COINS FALL, MONEY,
Coin, Flip
COIN, FLIP - COIN FLIP, MONEY,
COIN, FLIP - COIN FLIP AND CATCH, MONEY,
Coin, Hit
COIN, HIT - SMALL HIT INTO PILE OF COINS, MONEY,
Coin, Pour
COIN, POUR - DUMP COINS OUT OF BAG, MONEY, SACK,
Coin, Rustle
COIN, RUSTLE - CONSTANT COIN MOVEMENT, MONEY, BAG,
Coin, Scoop
COIN, SCOOP - SCOOP COINS, MONEY, SACK,
Coin, Spin
COIN, SPIN - SINGLE COIN SPIN, MONEY,
COIN, SPIN - SINGLE COIN DROP AND SPIN, MONEY,
COIN, SPIN - SINGLE LARGE COIN DROP AND SPIN, MONEY,
Crack, Nut
Crash, Auto
CRASH, AUTO - SKID AND LARGE AUTO CRASH, CARTOON
CRASH, AUTO - AUTO APPROACH, SKID AND CRASH, CARTOON
CRASH, AUTO - AUTO APPROACH AND CRASH INTO OTHER CAR, CARTOON,
Crash, Cartoon
CRASH, CARTOON - SHARP BASS, DRUM AND CYMBAL CRASH, MUSIC, PERCUSSION,
CRASH, CARTOON - KEN'S BASS, DRUM AND CYMBAL CRASH
CRASH, CARTOON - HEAVY CYMBAL CRASH, MUSIC, PERCUSSION, DRUMS,
CRASH, CARTOON - WOOD AND CYMBAL CRASH, MUSIC, PERCUSSION, DRUMS,
CRASH, CARTOON - TONY'S BASS, DRUM AND CYMBAL CRASH, MUSIC, PERCUSSION,
CRASH, CARTOON - SOLID BASS, DRUM AND CYMBAL CRASH, MUSIC, PERCUSSION, 01
CRASH, CARTOON - WATSON'S BASS, DRUM AND CYMBAL CRASH, MUSIC, PERCUSSION,
CRASH, CARTOON - LOOSE BASS, DRUM AND CYMBAL CRASH, MUSIC, PERCUSSION,
CRASH, CARTOON - SOLID BASS DRUM AND CYMBAL CRASH, MUSIC, PERCUSSION, 02
CRASH, CARTOON - CRAZY BASS DRUM AND CYMBAL CRASH, MUSIC, PERCUSSION, 01
CRASH, CARTOON - CRAZY BASS DRUM AND CYMBAL CRASH, MUSIC, PERCUSSION, 02
CRASH, CARTOON - BROKEN DRUM CRASH, MUSIC, PERCUSSION, 01
CRASH, CARTOON - BROKEN DRUM CRASH, MUSIC, PERCUSSION, 02
CRASH, CARTOON - BROKEN CRASH, MUSIC, PERCUSSION, DRUMS,
CRASH, CARTOON - CYMBAL AND GONG CRASH, MUSIC, PERCUSSION, DRUMS,
CRASH, CARTOON - SCREECHY CRASH WITH HORN, 01
CRASH, CARTOON - SCREECHY CRASH WITH HORN, 02
CRASH, CARTOON - HEAVY IMPACT CRASH, 01
CRASH, CARTOON - HEAVY IMPACT CRASH, 02
CRASH, CARTOON - BIG METAL CRASH,
CRASH, CARTOON - HEAVY TUMBLING CRASH,
CRASH, CARTOON - SHORT IMPACT CRASH,
CRASH, CARTOON - HEAVY DEBRIS CRASH,
CRASH, CARTOON - DEBRIS CRASH,
CRASH, CARTOON - LARGE METAL AND DEBRIS CRASH, 01
CRASH, CARTOON - LARGE METAL AND DEBRIS CRASH, 02
CRASH, CARTOON - LARGE JUNK CRASH, 01
CRASH, CARTOON - LARGE JUNK CRASH, 02
CRASH, CARTOON - BIG STOMP, STRETCH CRASH,
CRASH, CARTOON - CRASH, SLIDE AND DING,
CRASH, CARTOON - ZING AND CRASH,
CRASH, CARTOON - BOING AND BIG CRASH,
Crash, Bottle
CRASH, BOTTLE - GLASS BOTTLE DROP,
CRASH, BOTTLE - GLASS BOTTLES DROPPING,
Crash, Bowling
CRASH, BOWLING - BOWLING BALL STRIKING PINS,
Crash, Brick
Crash, Cans
Crash, Door
CRASH, DOOR - KICK IN DOOR, BREAK,
Crash, Garbage
CRASH, GARBAGE - GARBAGE CAN CRASH,
CRASH, GARBAGE - GARBAGE CRASH,
CRASH, GARBAGE - GARBAGE AND TRASH CRASH,
Crash, Glass
CRASH, GLASS - GLASS CRASH, 01
CRASH, GLASS - GLASS CRASH, 02
CRASH, GLASS - GLASS CRASH, 03
CRASH, GLASS - GLASS CRASH, 04
CRASH, GLASS - LARGE GLASS CRASH
Crash, Metal
CRASH, METAL - METAL PAN DROP,
CRASH, METAL - SHORT METAL CRASH,
CRASH, METAL - METAL CABINET CRASH,
CRASH, METAL - SMALL METAL CRASH, 01
CRASH, METAL - SMALL METAL CRASH, 02
CRASH, METAL - CLANGY METAL CRASH,
CRASH, METAL - SMALL METAL CRASH, 03
CRASH, METAL - HEAVY METAL CRASH,
CRASH, METAL - BIG METAL CRUNCH,
CRASH, METAL - METAL JUNK CRASH, 01
CRASH, METAL - METAL JUNK CRASH, 02
CRASH, METAL - BIG METAL JUNK CRASH,
CRASH, METAL - HEAVY METAL JUNK CRASH, 01
CRASH, METAL - HEAVY METAL JUNK CRASH, 02
Crash, Meteor
CRASH, METEOR - SPACEY METEOR CRASH,
CRASH, METEOR - EXPLOSIVE METEOR CRASH,
Crash, Stone
Crash, Tree
CRASH, TREE - TREE FALL AND CRASH,
CRASH, TREE - TREE CREAK AND FALL, 01
CRASH, TREE - TREE CREAK AND FALL, 02
CRASH, TREE - LARGE TREE FALL AND CRASH, 01
CRASH, TREE - LARGE TREE FALL AND CRASH, 02
Crash, Water
CRASH, WATER - UNDERWATER CRASH,
Crash, Wood
CRASH, WOOD - LARGE WOOD CRUNCH, 01
CRASH, WOOD - LARGE WOOD CRUNCH, 02
CRASH, WOOD - BOARD IMPACT CRASH,
CRASH, WOOD - HEAVY WOOD HIT, 01
CRASH, WOOD - HEAVY WOOD HIT, 02
CRASH, WOOD - HEAVY WOOD HIT, 03
Creak, Chair
CREAK, CHAIR - ROCKING CHAIR CREAKS,
Creak, Ship
CREAK, SHIP - WOODEN SHIP CREAKS, 01
Creak, Wood
CREAK, WOOD - SHORT WOOD CREAK,
Cuckoo, Whistle
CUCKOO, WHISTLE - HIGH PITCHED CUCKOO WHISTLE,
Digging, Cartoon
DIGGING, CARTOON - DIGGING IN SAND OR DIRT,
DIGGING, CARTOON - FAST DIGGING IN SAND OR DIRT,
DIGGING, CARTOON - LITTLE DIGGING HITS,
DIGGING, CARTOON - FAST HITS WITH PICK AXE,
DIGGING, CARTOON - DIGGING ROCKS IN MINE,
Door, Knob
DOOR, KNOB - MANY RAPID RATTLES,
Door, Knocker
DOOR, KNOCKER - SEVERAL KNOCKS WITH METAL KNOCKER,
DOOR, KNOCKER - THREE KNOCKS WITH METAL KNOCKER,
Door, Metal
DOOR, METAL - CLOSE AND LATCH, 01
DOOR, METAL - RATTLY SLIDE OPEN,
DOOR, METAL - RATTLY SLIDE CLOSED,
DOOR, METAL - JOE'S METAL DOOR: UNLATCH, 01
DOOR, METAL - JOE'S METAL DOOR: UNLATCH, 02
DOOR, METAL - JOE'S METAL DOOR: CLOSE AND RATTLE,
DOOR, METAL - JOE'S METAL DOOR: CLOSE AND LATCH,
DOOR, METAL - METAL LATCH OPEN,
DOOR, METAL - METAL LATCH CLOSE,
DOOR, METAL - CLOSE AND LATCH, 02
DOOR, METAL - METAL LATCH MOVEMENT,
Door, Saloon
DOOR, SALOON - SALOON DOOR SWINGS,
Door, Wood
DOOR, WOOD - RAPID OPENS AND CLOSES,
DOOR, WOOD - SKIP'S HANDLE OPEN,
DOOR, WOOD - SLAM CLOSED WITH RATTLE,
DOOR, WOOD - SKIP'S WOOD DOOR SLAM AND RATTLE,
DOOR, WOOD - CABIN DOOR: OPEN,
DOOR, WOOD - CABIN DOOR: CLOSE,
DOOR, WOOD - LARGE DOOR: FAST CREAK OPEN,
DOOR, WOOD - LARGE DOOR: FAST CREAK CLOSED AND RATTLE,
DOOR, WOOD - LARGE DOOR: SQUEAK CLOSED AND SLAM,
DOOR, WOOD - HOLLOW DOOR CLOSE,
DOOR, WOOD - BIG WOOD DOOR SLAM,
DOOR, WOOD - SCREECHY DOOR SLAM, 01
DOOR, WOOD - SCREECHY DOOR SLAM, 02
Drop, Can
DROP, CAN - DROP LARGE METAL GARBAGE CAN,
Drop, Golf
DROP, GOLF - GOLF BALL DROP INTO CUP, 01
DROP, GOLF - GOLF BALL DROP INTO CUP, 02
Drop, Ice
DROP, ICE - ICE CUBE DROP INTO GLASS,
Drop, Rope
DROP, ROPE - HEAVY ROPE DROP ONTO GROUND,
Drop, Wood
DROP, WOOD - WOODEN BOARD DROP ONTO GROUND, 01
DROP, WOOD - WOODEN BOARD DROP ONTO GROUND, 02
DROP, WOOD - WOODEN BOARD DROP ONTO GROUND, 03
DROP, WOOD - WOODEN BOARD DROP ONTO GROUND, 04
DROP, WOOD - WOODEN BOARD DROP ONTO GROUND, 05
DROP, WOOD - WOODEN BOARD DROP ONTO GROUND, 06
DROP, WOOD - WOODEN BOARD DROP ONTO GROUND, 07
DROP, WOOD - WOODEN BOARD DROP ONTO GROUND AND TUMBLE,
DROP, WOOD - MANY BOARDS TUMBLE ONTO GROUND,
DROP, WOOD - WOODEN BOARD TUMBLE ONTO GROUND,
DROP, WOOD - SMALL TWIG DROP ONTO GROUND,
DROP, WOOD - SMALL TWIGS DROP ONTO GROUND,
DROP, WOOD - SMALL LUMBER TUMBLE, 01
DROP, WOOD - SMALL LUMBER TUMBLE, 02
Drums, Cartoon
DRUMS, CARTOON - SHORT ROLL AND KONK, MUSIC, PERCUSSION,
DRUMS, CARTOON - SHORT ROLL WITH WHISTLE, MUSIC, PERCUSSION,
DRUMS, CARTOON - ACROBATIC ROLL WITH ACCENTS, MUSIC, PERCUSSION,
DRUMS, CARTOON - SHORT BREAK WITH CYMBAL, MUSIC, PERCUSSION,
DRUMS, CARTOON - SHORT COMIC BREAK, MUSIC, PERCUSSION, 01
DRUMS, CARTOON - SHORT COMIC BREAK, MUSIC, PERCUSSION, 02
DRUMS, CARTOON - SHORT BREAK WITH XYLO, MUSIC, PERCUSSION,
DRUMS, CARTOON - SPRINGY RUNNING DRUMS, MUSIC, PERCUSSION,
DRUMS, CARTOON - LOG DRUM RUN AND SPRING, MUSIC, PERCUSSION,
Egg, Crack
EGG, CRACK - EGG CRACK AND OPEN,
Explosion
EXPLOSION - MEDIUM EXPLOSION, 01
EXPLOSION - MEDIUM EXPLOSION, 02
EXPLOSION - MEDIUM EXPLOSION, 03
EXPLOSION - MEDIUM EXPLOSION, 04
EXPLOSION - DOUBLE MEDIUM EXPLOSION,
EXPLOSION - MEDIUM EXPLOSION, 05
EXPLOSION - LARGE EXPLOSION, 01
EXPLOSION - LARGE EXPLOSION, 02
EXPLOSION - LARGE EXPLOSION, 03
EXPLOSION - LARGE EXPLOSION, 04
EXPLOSION - LARGE EXPLOSION, 05
EXPLOSION - LARGE EXPLOSION, 06
EXPLOSION - LARGE EXPLOSION AND RUMBLE,
EXPLOSION - LARGE DISTANT EXPLOSION AND RUMBLE,
EXPLOSION - DISTANT ARTILLERY EXPLOSIONS,
EXPLOSION - HOWITZER EXPLOSION,
EXPLOSION - HOWITZER SHELL IN AND EXPLODE,
EXPLOSION - SHELL SWOOSH AND EXPLODE,
EXPLOSION - SHELL SCREAM AND EXPLODE IN DISTANCE,
EXPLOSION - ATOM BOMB EXPLOSION,
EXPLOSION - TRENCH MORTAR EXPLOSION,
EXPLOSION - MORTAR EXPLOSION, 01
EXPLOSION - MORTAR EXPLOSION, 02
EXPLOSION - MORTAR FIRE WHEEL AND EXPLOSION,
EXPLOSION - BOMBARDMENT EXPLOSIONS,
EXPLOSION - SMALL EXPLOSION WITH DEBRIS,
EXPLOSION - SMALL DISTANT EXPLOSION,
EXPLOSION - SMALL SHAKING EXPLOSION,
EXPLOSION - EXPLOSION WITH DEBRIS,
EXPLOSION - SHARP EXPLOSION WITH DEBRIS,
EXPLOSION - LARGE EXPLOSION AND AFTERMATH,
EXPLOSION - UNDERWATER EXPLOSION,
EXPLOSION - SHORT RINGING EXPLOSION,
Fall, Body
FALL, BODY - HEAVY BODY FALL, HUMAN,
FALL, BODY - HEAVY, DULL BODY FALL, HUMAN,
FALL, BODY - DULL BODY FALL, HUMAN,
FALL, BODY - BODY FALL ON CONCRETE, HUMAN, 01
FALL, BODY - BODY FALL ON CONCRETE, HUMAN, 02
FALL, BODY - BODY FALL ON DIRT, HUMAN, 01
FALL, BODY - BODY FALL ON DIRT, HUMAN, 02
FALL, BODY - BODY FALL ON DIRT, HUMAN, 03
FALL, BODY - BODY FALL ON FLOOR, HUMAN, 01
FALL, BODY - BODY FALL ON FLOOR, HUMAN, 02
FALL, BODY - GROUP BODY FALL, HUMAN,
FALL, BODY - LIGHT BODY FALL, HUMAN,
Fall, Cartoon
FALL, CARTOON - DRUM BODY SLAM,
FALL, CARTOON - TIMP AND BLOCK FALL,
FALL, CARTOON - TRIP AND FALL, 01
FALL, CARTOON - TRIP AND FALL, 02
FALL, CARTOON - ZIP SLIP AND FALL,
Fall, Debris
FALL, DEBRIS - BRICKS AND STONES TUMBLE AND FALL,
FALL, DEBRIS - DIRT AND DEBRIS FALL,
Fall, Ski
FALL, SKI - SMALL TUMBLE IN SNOW,
Fart
Fishing Reel
FISHING REEL - SHORT FAST WIND, 01
FISHING REEL - SHORT FAST WIND, 02
FISHING REEL - THREE SHORT FAST WINDS,
FISHING REEL - MANY VERY SHORT WINDS,
FISHING REEL - SHORT, VERY FAST WIND,
FISHING REEL - LONG, FAST WIND,
FISHING REEL - LONG, VERY FAST WIND,
Flap, Cartoon
FLAP, CARTOON - SHORT, RAPID FLAPPING,
Flop, Cartoon
FLOP, CARTOON - SINGLE FIN FLOP,
FLOP, CARTOON - SEVERAL FIN FLOPS,
Kazoo, Cartoon
KAZOO, CARTOON - KAZOO FADE IN,
KAZOO, CARTOON - KAZOO FADE OUT,
Gong
GONG - SMALL GONG, MUSIC, PERCUSSION,
GONG - LARGE CHINESE GONG, MUSIC, PERCUSSION,
Grab, Cartoon
GRAB, CARTOON - QUICK GRAB OR PICK UP,
Gun, Hand Gun
GUN, HAND GUN - SINGLE GUN SHOT, 01
GUN, HAND GUN - RAPID GUN SHOTS,
GUN, HAND GUN - SINGLE GUN SHOT, 02
GUN, HAND GUN - SINGLE PISTOL SHOT, 01
GUN, HAND GUN - SINGLE PISTOL SHOT, 02
GUN, HAND GUN - 45 AUTO: SINGLE SHOT,
GUN, HAND GUN - INTERIOR: SINGLE SHOT,
GUN, HAND GUN - SINGLE GUN SHOT, 03
GUN, HAND GUN - SINGLE PISTOL SHOT, 03
GUN, HAND GUN - SINGLE PISTOL SHOT, 04
GUN, HAND GUN - SINGLE GUN SHOT, 04
GUN, HAND GUN - COLT FRONTIER: SINGLE SHOT,
Gun, Hand, Foley
GUN, HAND, FOLEY - SINGLE TRIGGER CLICK,
GUN, HAND, FOLEY - SEVERAL TRIGGER CLICKS,
Gun, Holster
GUN, HOLSTER - DRAW GUN FROM HOLSTER,
GUN, HOLSTER - REPLACE GUN IN HOLSTER,
Gun, Machine Gun
GUN, MACHINE GUN - 50 CAL.: SHORT BURST,
GUN, MACHINE GUN - 30 CAL.: MEDIUM BURST,
GUN, MACHINE GUN - TOMMY GUN: SHORT BURST, 01
GUN, MACHINE GUN - TOMMY GUN: SHORT BURST, 02
Gun, Rifle
GUN, RIFLE - SEVERAL RAPID SHOTS,
GUN, RIFLE - SINGLE SHOT WITH LONG ECHO,
GUN, RIFLE - SINGLE SHOT WITH LONG REVERB,
Gun, Rifle, Foley
GUN, RIFLE, FOLEY - COCK RIFLE, 01
GUN, RIFLE, FOLEY - COCK RIFLE, 02
GUN, RIFLE, FOLEY - BOLT ACTION, 01
GUN, RIFLE, FOLEY - BOLT ACTION, 02
GUN, RIFLE, FOLEY - BOLT ACTION, 03
GUN, RIFLE, FOLEY - LEVER ACTION, 01
GUN, RIFLE, FOLEY - LEVER ACTION, 02
Gun, Shooting Gallery
GUN, SHOOTING GALLERY - METAL TARGET HIT IN SHOOTING GALLERY,
Gun, Shot Gun
GUN, SHOT GUN - ELEPHANT GUN: SINGLE SHOT,
Hammer, Cartoon
HAMMER, CARTOON - HAMMER ON WOOD, SHORT,
HAMMER, CARTOON - HAMMER ON WOOD, LONG,
HAMMER, CARTOON - HAMMER ON WOOD, SLOW,
HAMMER, CARTOON - HAMMER ON WOOD, FAST,
HAMMER, CARTOON - DULL, HEAVY HITS ON WOOD,
Head Shake, Cartoon
HEAD SHAKE, CARTOON - XYLO HEAD SHAKE,
HEAD SHAKE, CARTOON - PIANO HEAD SHAKE,
HEAD SHAKE, CARTOON - PINGY HEAD SHAKE,
HEAD SHAKE, CARTOON - THROAT GARBLE, SHORT,
HEAD SHAKE, CARTOON - THROAT GARBLE, MEDIUM,
HEAD SHAKE, CARTOON - THROAT GARBLE, LONG,
Hit, Cartoon
HIT, CARTOON - COCONUT HIT, 01
HIT, CARTOON - COCONUT HIT, 02
HIT, CARTOON - FLAT PEEONG, 01
HIT, CARTOON - FLAT PEEONG, 02
HIT, CARTOON - ZIP AND HEAVY THUMP,
HIT, CARTOON - BIG SWOOSH AND HIT,
HIT, CARTOON - HOLLOW METALLIC HEAD KONK, 01
HIT, CARTOON - HOLLOW METALLIC HEAD KONK, 02
HIT, CARTOON - HOLLOW METALLIC HEAD KONK AND HORN
HIT, CARTOON - TWO HOLLOW METALLIC HEAD KONKS WITH HORN
HIT, CARTOON - HOLLOW HEAD KONK AND ZIP,
HIT, CARTOON - BRAKE DRUM HIT,
HIT, CARTOON - BRAKE DRUM AND BULB HORN HIT,
HIT, CARTOON - BENT BRAKE DRUM AND BULB HORN HIT,
HIT, CARTOON - LID ON MANHOLE HIT,
HIT, CARTOON - METAL PAN ON HEAD,
HIT, CARTOON - SHARP HEAD HIT WITH METAL PAN,
HIT, CARTOON - METAL BARREL HIT,
HIT, CARTOON - BIG SWING AND HEAVY HIT,
HIT, CARTOON - SWING AND BROKEN HIT,
HIT, CARTOON - HEAVY RISING HIT,
HIT, CARTOON - HIT AND WIGGLE,
HIT, CARTOON - HIT AND VIBRATE,
HIT, CARTOON - SLIDE IN AND FLBONK,
HIT, CARTOON - TROMBOING AND TIMP BOING,
HIT, CARTOON - HIT AND BOWANG,
HIT, CARTOON - TIMP POUNDING AND DOOR SLAM,
HIT, CARTOON - TEMPLE BLOCK KONK, 01
HIT, CARTOON - TEMPLE BLOCK KONK, 02
HIT, CARTOON - TEMPLE BLOCK HITS,
HIT, CARTOON - SOLID TIMP RISE,
HIT, CARTOON - HEAVY TIMP RISE,
HIT, CARTOON - HEAVY DRUM RISE,
HIT, CARTOON - DRUM RISE, HIT AND WIGGLE,
HIT, CARTOON - LOOSE DRUM HIT,
HIT, CARTOON - HEAVY BROOM WHAP,
HIT, CARTOON - MONEY BAG DROP,
HIT, CARTOON - CLOTH HIT AND SCUFFLE,
HIT, CARTOON - FIST HIT INTO GLOVE,
HIT, CARTOON - PICK ON ROCK HIT,
HIT, CARTOON - GOLF SWING AND HIT,
HIT, CARTOON - SWING AND BIG HIT, 01
HIT, CARTOON - SWING AND BIG HIT, 02
HIT, CARTOON - SWING AND BIG HIT, 03
HIT, CARTOON - SMASH AGAINST WALL,
HIT, CARTOON - BIG SMASH AGAINST WALL,
HIT, CARTOON - HEAVY WALL HIT,
HIT, CARTOON - HOLLOW, DULL HIT,
HIT, CARTOON - DULL DRUM BOUNCE,
Hit, Metal
HIT, METAL - PAN HIT AND WOBBLE,
HIT, METAL - METAL CHISEL HIT, 01
HIT, METAL - METAL CHISEL HIT, 02
HIT, METAL - METAL CHISEL HIT, 03
HIT, METAL - HAMMER HIT ON METAL,
HIT, METAL - FAST HAMMERING ON METAL,
HIT, METAL - SMALL SHOVEL HIT,
HIT, METAL - SMALL SHOVEL HIT AND VIBRATE,
HIT, METAL - HOLLOW METAL HIT,
HIT, METAL - HOLLOW METAL BIN HIT,
HIT, METAL - HORSESHOE HIT, 01
HIT, METAL - HORSESHOE HIT, 02
Hit, Human
HIT, HUMAN - DULL BODY SOCK, 01
HIT, HUMAN - DULL BODY SOCK, 02
HIT, HUMAN - HEAVY DULL KICK, 01
HIT, HUMAN - HEAVY DULL KICK, 02
HIT, HUMAN - PUNCHING BAG HITS,
HIT, HUMAN - HEAVY SLAP, FACE,
HIT, HUMAN - LIGHT SLAP, FACE,
Hit, Wood
HIT, WOOD - CONSTANT BOARD HITS,
HIT, WOOD - DULL BROOM HANDLE HIT,
HIT, WOOD - BROOM HANDLE HITS, SLOW,
HIT, WOOD - BROOM HANDLE HITS, FAST,
HIT, WOOD - CANDLE HOLDER SET DOWN, 01
HIT, WOOD - CANDLE HOLDER SET DOWN, 02
HIT, WOOD - HEAVY BARREL THUMP,
Hop, Cartoon
HOP, CARTOON - SINGLE JEWS HARP HOP, 01
HOP, CARTOON - JEWS HARP HOPPING, SLOW, 01
HOP, CARTOON - JEWS HARP HOPPING, FAST, 01
HOP, CARTOON - SINGLE JEWS HARP HOP, 02
HOP, CARTOON - JEWS HARP HOPPING, SLOW, 02
HOP, CARTOON - JEWS HARP HOPPING, MEDIUM,
HOP, CARTOON - JEWS HARP HOPPING, FAST, 02
HOP, CARTOON - HOPPING SPROINGS, SHORT,
HOP, CARTOON - HOPPING SPROINGS, LONG,
HOP, CARTOON - DOUG'S FUNNY HOP, SHORT,
HOP, CARTOON - DOUG'S FUNNY HOP, LONG,
HOP, CARTOON - PIXIE AND DIXIE HOP, SHORT
HOP, CARTOON - PIXIE AND DIXIE HOP, MEDIUM
HOP, CARTOON - PIXIE AND DIXIE HOP, LONG
Horn, Cartoon
HORN, CARTOON - OLD BULB HORN,
HORN, CARTOON - KAZOO PARTY HORN,
HORN, CARTOON - CAR HORN BLASTS,
Knock, Door
KNOCK, DOOR - KNOCK ON WOOD DOOR,
KNOCK, DOOR - KNOCK ON WOOD DOOR, SLOW,
KNOCK, DOOR - RAPID KNOCKS ON WOOD DOOR,
KNOCK, DOOR - VARIOUS KNOCKS ON WOOD DOOR,
KNOCK, DOOR - HEAVY KNOCKS ON WOOD DOOR,
KNOCK, DOOR - HOLLOW KNOCKS ON WOOD DOOR,
KNOCK, DOOR - RATTLY KNOCKS ON WOOD DOOR,
Knock, Window
KNOCK, WINDOW - HEAVY KNOCKS ON WINDOW,
KNOCK, WINDOW - SHARP TAPS ON WINDOW,
Lever, Cartoon
LEVER, CARTOON - SLOT MACHINE LEVER PULL,
Match
Parachute, Cartoon
PARACHUTE, CARTOON - PARACHUTE OPEN, 01
PARACHUTE, CARTOON - PARACHUTE OPEN, 02
Piano, Cartoon
PIANO, CARTOON - WILD PIANO TAKE, MUSIC, 01
PIANO, CARTOON - WILD PIANO TAKE, MUSIC, 02
PIANO, CARTOON - WILD PIANO TAKE, MUSIC, 03
PIANO, CARTOON - WILD PIANO TAKE, MUSIC, 04
PIANO, CARTOON - WILD PIANO TAKE, MUSIC, 05
PIANO, CARTOON - SINGLE WILD PIANO HIT, MUSIC, 01
PIANO, CARTOON - SINGLE WILD PIANO HIT, MUSIC, 02
PIANO, CARTOON - SINGLE WILD PIANO HIT, MUSIC, 03
PIANO, CARTOON - SINGLE WILD PIANO HIT, MUSIC, 04
Pick, Cartoon
PICK, CARTOON - FIDDLE PICK AND RISE, LOW,
PICK, CARTOON - FIDDLE PICK AND RISE, MEDIUM, 01
PICK, CARTOON - FIDDLE PICK AND RISE, MEDIUM, 02
PICK, CARTOON - FIDDLE PICK AND RISE, HIGH, 01
PICK, CARTOON - FIDDLE PICK AND RISE, HIGH, 02
Plink, Cartoon
Pluck, Cartoon
PLUCK, CARTOON - SINGLE BLURP,
PLUCK, CARTOON - FOUR VAROOPS IN A ROW,
Plunger, Cartoon
PLUNGER, CARTOON - SINGLE PLUNGER BLOP, 01
PLUNGER, CARTOON - SINGLE PLUNGER BLOP, 02
PLUNGER, CARTOON - PLUNGER BLOPS,
PLUNGER, CARTOON - WET PLUNGER BLOPS,
Poof, Cartoon
POOF, CARTOON - BIG FOOF AND SPRING,
POOF, CARTOON - WAHEEP AND POOF,
POOF, CARTOON - FLASH POWDER POOF,
Pooz, Cartoon
POOZ, CARTOON - PAUL'S POOZ, 01
POOZ, CARTOON - PAUL'S POOZ, 02
Pool, Billiards
POOL, BILLIARDS - 'RACK 'EM UP',
POOL, BILLIARDS - POOL BREAK SHOT,
Pop, Cartoon
POP, CARTOON - PAPER BAG BURST,
POP, CARTOON - CORK SQUEAK AND POP
POP, CARTOON - HEAVY CORK POP,
POP, CARTOON - HEAVY CORK SQUEAK AND POP,
POP, CARTOON - BOTTLE DOWN AND CORK UP,
Pour
POUR - POUR LIQUID FROM BOTTLE, 01
POUR - POUR LIQUID FROM BOTTLE, 02
Ratchet, Cartoon
RATCHET, CARTOON - SHORT RATCHET MOVEMENT,
RATCHET, CARTOON - SHORT LEVER RATCHET,
RATCHET, CARTOON - LIGHT RATCHET,
RATCHET, CARTOON - WOOD RATCHET, LONG,
RATCHET, CARTOON - WATSON'S WOOD RATCHET,
RATCHET, CARTOON - SEVERAL SHORT RATCHET MOVEMENTS,
RATCHET, CARTOON - RATCHET, HUM AND KNOCK,
Rattle, Cartoon
RATTLE, CARTOON - RATTLE CAN ON BARS,
RATTLE, CARTOON - CASSETTE TAPE EJECT,
RATTLE, CARTOON - SMALL BUBBLE RATTLE,
RATTLE, CARTOON - ROLLING CHAIR RATTLE,
RATTLE, CARTOON - SHORT DISH BOUNCE,
RATTLE, CARTOON - SHORT DISH RATTLE,
RATTLE, CARTOON - STACKING DISHES,
RATTLE, CARTOON - SEASHELL CHATTER,
RATTLE, CARTOON - METAL ARMOUR RATTLE,
RATTLE, CARTOON - HEAVY SPRING DOWN,
RATTLE, CARTOON - METAL GARBAGE CAN RATTLE,
RATTLE, CARTOON - TUMBLING BRICKS,
Razzberry, Cartoon
RAZZBERRY, CARTOON - BIG RAZZBERRY,
Record Player
RECORD PLAYER - RECORD NEEDLE RUNNING IN EMPTY GROOVE, SLOW, SCRATCH,
RECORD PLAYER - RECORD NEEDLE RUNNING IN EMPTY GROOVE, FAST, SCRATCH,
Record, Scratch
RECORD, SCRATCH - SCRATCH NEEDLE ON RECORD,
Ricochet
RICOCHET - SHORT STRETCH AND RICCO,
RICOCHET - GUN SHOT RICCO OUT,
RICOCHET - MORTAR HIT AND SHELL SCREAM RICCO,
RICOCHET - LONG SHELL SCREAM RICCO,
RICOCHET - RICCO AND WHINE, 01
RICOCHET - RICCO AND WHINE, 02
RICOCHET - RICCO AND WHINE, 03
RICOCHET - RICCO AND WHINE, 04
RICOCHET - HEAVY, HOLLOW RICCO, 01
RICOCHET - HEAVY, HOLLOW RICCO, 02
RICOCHET - HEAVY, HOLLOW RICCO, 03
RICOCHET - HEAVY, HOLLOW RICCO, 04
RICOCHET - EXHAUST TUBE RICCO,
RICOCHET - WAFFLE WHINE TUBE RICCO,
RICOCHET - METALLIC HOLLOW TUBE RICCO,
Roll, Snowball
ROLL, SNOWBALL - GIANT SNOWBALL ROLL,
Roller Skate, Cartoon
ROLLER SKATE, CARTOON - ROLLER SKATE SLOW,
ROLLER SKATE, CARTOON - ROLLER SKATE MEDIUM,
ROLLER SKATE, CARTOON - ROLLER SKATE FAST,
ROLLER SKATE, CARTOON - WALK ON ROLLER SKATES,
ROLLER SKATE, CARTOON - WALK ON ROLLER SKATES ON WOOD,
ROLLER SKATE, CARTOON - ROLLER SKATE VERY FAST,
ROLLER SKATE, CARTOON - LIGHT ROLLING WITH STOMPS,
ROLLER SKATE, CARTOON - LONG ROLLING WITH STOMPS,
Rumble, Cartoon
RUMBLE, CARTOON - TIMPANI THUNDER ROLL,
Run, Cartoon
RUN, CARTOON - TEMPLE BLOCK RIOT, SHORT,
RUN, CARTOON - TEMPLE BLOCK RIOT, MEDIUM,
RUN, CARTOON - TEMPLE BLOCK RIOT, LONG,
RUN, CARTOON - TEMPLE BLOCK GALLOP, SHORT,
RUN, CARTOON - TEMPLE BLOCK GALLOP, LONG,
RUN, CARTOON - TEMPLE BLOCK RUN UP, 01
RUN, CARTOON - TEMPLE BLOCK RUN UP, 02
RUN, CARTOON - SMURF TAKE OFF,
RUN, CARTOON - WIND WHISTLE SCAT
RUN, CARTOON - BONE WIPE RUN UP,
RUN, CARTOON - BLOP GALLOP, SHORT,
RUN, CARTOON - BLOP GALLOP, LONG,
RUN, CARTOON - FAST RUN, SHORT,
RUN, CARTOON - FAST RUN, LONG,
RUN, CARTOON - TOY HAMMER RUN,
RUN, CARTOON - TOY HAMMER RUN UP,
Scrape, Metal
SCRAPE, METAL - HARD METAL SCRAPE,
Scrape, Rock
SCRAPE, ROCK - VARIOUS ROCK SCRAPES,
SCRAPE, ROCK - LARGE ROCK HITS AND SLIDES,
SCRAPE, ROCK - WEIRD ROCK SCRAPE,
Shake, Cartoon
SHAKE, CARTOON - SHORT RATTLY SHAKE,
SHAKE, CARTOON - SALT SHAKER SHAKE,
SHAKE, CARTOON - DICE SHAKE IN LEATHER CUP,
SHAKE, CARTOON - ZILLY SHAKE, SHORT, 01
SHAKE, CARTOON - ZILLY SHAKE, MEDIUM, 01
SHAKE, CARTOON - ZILLY SHAKE, LONG, 01
SHAKE, CARTOON - ZILLY SHAKE, SHORT, 02
SHAKE, CARTOON - ZILLY SHAKE, MEDIUM, 02
SHAKE, CARTOON - ZILLY SHAKE, LONG, 02
Ski, Cartoon
SKI, CARTOON - SLIDE AND FALL,
Skid, Auto
SKID, AUTO - AUTO PULL UP AND SKID TO STOP, TIRE,
SKID, AUTO - AUTO APPROACH AND SKID TO STOP, TIRE,
Skid, Cartoon
SKID, CARTOON - SHORT CAR SKID,
SKID, CARTOON - MEDIUM CAR SKID,
SKID, CARTOON - BIG LONG SKID,
SKID, CARTOON - BIG LONG CAR SKID,
SKID, CARTOON - LONG CONSTANT SKID,
SKID, CARTOON - HIGH BROKEN SKID, SHORT,
SKID, CARTOON - HIGH BROKEN SKID, MEDIUM,
SKID, CARTOON - HIGH BROKEN SKID, LONG,
Slap, Cartoon
SLAP, CARTOON - FAST SLAPS WITH RIPPLE UP AND BOING,
SLAP, CARTOON - RAPID SLAPS, SHORT,
SLAP, CARTOON - RAPID SLAPS, MEDIUM,
SLAP, CARTOON - RAPID SLAPS, LONG,
SLAP, CARTOON - RAPID SLAPS, VERY LONG,
Slide, Cartoon
SLIDE, CARTOON - FIDDLE SLIDE UP, SHORT, 01
SLIDE, CARTOON - FIDDLE SLIDE UP, 01
SLIDE, CARTOON - FIDDLE SLIDE DOWN, 01
SLIDE, CARTOON - FIDDLE SLIDE UP, SHORT, 02
SLIDE, CARTOON - FIDDLE SLIDE UP, LONG,
SLIDE, CARTOON - FIDDLE SLIDE DOWN, SHORT,
SLIDE, CARTOON - FIDDLE SLIDE DOWN, LONG,
SLIDE, CARTOON - FIDDLE SLIDE UP, 02
SLIDE, CARTOON - FIDDLE SLIDE DOWN, 02
SLIDE, CARTOON - QUICK SLIDE UP AND DOWN,
SLIDE, CARTOON - FIDDLE SLIDE AND QUICK RUN UP,
SLIDE, CARTOON - SHORT FIDDLE BOW SLIDE,
SLIDE, CARTOON - FAST SLIDE UP AND DOWN, 01
SLIDE, CARTOON - FAST SLIDE UP AND DOWN, 02
SLIDE, CARTOON - SILLY SLIDE UP,
SLIDE, CARTOON - SHORT SPLING,
SLIDE, CARTOON - SHORT SLIDE UP,
SLIDE, CARTOON - SHORT SLIDE DOWN,
SLIDE, CARTOON - QUICK SLIDE DOWN,
SLIDE, CARTOON - SHORT SKI STOP SLIDE, 01
SLIDE, CARTOON - SHORT SKI STOP SLIDE, 02
SLIDE, CARTOON - SHORT SKI STOP SLIDE, 03
SLIDE, CARTOON - DOUBLE SKI STOP SLIDE, 01
SLIDE, CARTOON - DOUBLE SKI STOP SLIDE, 02
Sludge, Cartoon
SLUDGE, CARTOON - SQUISHY SLUDGE,
Smash, Dishes
SMASH, DISHES - DISHES CRASH, SHORT,
SMASH, DISHES - BIG DISH CRASH, SHORT, 01
SMASH, DISHES - BIG DISH CRASH, SHORT, 02
SMASH, DISHES - BIG DISH CRASH, SHORT, 03
Smash, Glass
SMASH, GLASS - SMALL GLASS CRASH,
SMASH, GLASS - SMALL GLASS SMASH,
SMASH, GLASS - GLASS SMASH, 01
SMASH, GLASS - GLASS SMASH, 02
SMASH, GLASS - GLASS SMASH, 03
SMASH, GLASS - GLASS SMASH, 04
SMASH, GLASS - GLASS SMASH, 05
SMASH, GLASS - GLASS SMASH, 06
SMASH, GLASS - GLASS SMASH, 07
SMASH, GLASS - GLASS SMASH, 08
Smash, Melon
SMASH, MELON - SMASH WATERMELON, 01
SMASH, MELON - SMASH WATERMELON, 02
SMASH, MELON - SMASH WATERMELON, SEVERAL HITS,
Smash, Pottery
SMASH, POTTERY - SMALL CERAMIC POT BREAK, 01
SMASH, POTTERY - SMALL CERAMIC POT BREAK, 02
SMASH, POTTERY - SMALL CERAMIC POT BREAK, 03
SMASH, POTTERY - SMALL CERAMIC POT BREAK, 04
SMASH, POTTERY - POTTERY CRASH, 01
SMASH, POTTERY - POTTERY CRASH, 02
SMASH, POTTERY - POTTERY CRASH, 03
SMASH, POTTERY - POTTERY CRASH, 04
SMASH, POTTERY - POTTERY CRASH, 05
Snap, Wood
SNAP, WOOD - SMALL BRANCH BREAK,
Snap, Cartoon
SNAP, CARTOON - SNAP AND CREAK,
Spin, Cartoon
SPIN, CARTOON - SPIN AND BOING,
SPIN, CARTOON - SPIN COMMOTION,
SPIN, CARTOON - DAVE'S WIND WHISTLE SPIN,
SPIN, CARTOON - BABOO LONG DRUM SPIN,
SPIN, CARTOON - TURNSTILE SPIN,
Spit, Cartoon
SPIT, CARTOON - THREE QUICK SPUTS,
SPIT, CARTOON - BIG RAZZBERRY SPIT,
SPIT, CARTOON - SPIT INTO SPITTOON,
Spitball, Cartoon
SPITBALL, CARTOON - SINGLE SPITBALL HIT,
SPITBALL, CARTOON - SEVERAL SPITBALL HITS,
SPITBALL, CARTOON - MANY SPITBALL HITS,
Splat, Cartoon
SPLAT, CARTOON - AIR BY AND SPLAT,
SPLAT, CARTOON - PIE IN FACE SPLAT,
SPLAT, CARTOON - ZIP AND PIE IN FACE SPLAT
SPLAT, CARTOON - DOUBLE PIE IN FACE SPLAT,
SPLAT, CARTOON - BORK PIE HIT,
SPLAT, CARTOON - EARL'S PIE HIT,
SPLAT, CARTOON - PAINT FIGHT GLOP, 01
SPLAT, CARTOON - PAINT FIGHT GLOP, 02
SPLAT, CARTOON - PAINT FIGHT GLOP, 03
SPLAT, CARTOON - PAINT FIGHT GLOP, 04
SPLAT, CARTOON - PAINT FIGHT GLOP, 05
SPLAT, CARTOON - PAINT FIGHT GLOP, 06
SPLAT, CARTOON - PAINT FIGHT GLOP, 07
SPLAT, CARTOON - PAINT FIGHT GLOP, 08
SPLAT, CARTOON - PAINT FIGHT GLOPS,
SPLAT, CARTOON - THIN MUD SPLAT,
SPLAT, CARTOON - HEAVY MUD SPLAT,
SPLAT, CARTOON - SLOPPY MUD PLOPS,
SPLAT, CARTOON - SHORT MUD POUR GLOPS, 01
SPLAT, CARTOON - SHORT MUD POUR GLOPS, 02
SPLAT, CARTOON - LONG MUD POUR,
Spring, Cartoon
SPRING, CARTOON - SPRING STRETCH AND RELEASE,
Spurs, Footsteps
SPURS, FOOTSTEPS - WALKING WITH SPURS,
Sputter, Cartoon
SPUTTER, CARTOON - SHORT SPUTTER,
SPUTTER, CARTOON - SPUTTER RUN,
SPUTTER, CARTOON - SPUTTER BUBBLE RUN UP,
SPUTTER, CARTOON - SLOPPY SPUTTERING,
SPUTTER, CARTOON - SMURF'S SUPER SPUTTER, SHORT,
SPUTTER, CARTOON - SMURF'S SUPER SPUTTER, LONG,
SPUTTER, CARTOON - SMURF'S SUPER SPUTTER, RUN AWAY,
HB-02
Squeak, Cartoon
SQUEAK, CARTOON - SHORT BALLOON SQUEAK,
SQUEAK, CARTOON - LONG BALLOON SQUEAK,
SQUEAK, CARTOON - BED SPRINGS SQUEAKING,
SQUEAK, CARTOON - FUNNY HEAD SCRATCH SQUEAKS,
SQUEAK, CARTOON - METAL HINGE SQUEAKING,
SQUEAK, CARTOON - FUNNY LITTLE SQUEAK,
SQUEAK, CARTOON - SHORT SCRAPING SQUEAK,
SQUEAK, CARTOON - SINGLE RUB SQUEAK, 01
SQUEAK, CARTOON - SINGLE RUB SQUEAK, 02
SQUEAK, CARTOON - SINGLE RUB SQUEAK, 03
SQUEAK, CARTOON - RUBBING SQUEAKS,
SQUEAK, CARTOON - LITTLE WHISTLE UP,
SQUEAK, CARTOON - LITTLE TWANGY ZIP,
SQUEAK, CARTOON - LITTLE SQUERK,
SQUEAK, CARTOON - LITTLE ZABORK,
SQUEAK, CARTOON - LITTLE BROKEN SQUEAK UP,
Squeeze, Cartoon
SQUEEZE, CARTOON - HORN SQUEEZE, SHORT,
SQUEEZE, CARTOON - HORN SQUEEZE, MEDIUM,
SQUEEZE, CARTOON - HORN SQUEEZE, LONG,
SQUEEZE, CARTOON - HOYT'S SQUEAKY SQUEEZE,
SQUEEZE, CARTOON - MUSTARD BOTTLE SQUEEZE,
SQUEEZE, CARTOON - SQUINCH AND DOONK, 01
SQUEEZE, CARTOON - SQUINCH AND DOONK, 02
Squirt, Cartoon
SQUIRT, CARTOON - WATER SQUIRT, 01
SQUIRT, CARTOON - WATER SQUIRT, 02
SQUIRT, CARTOON - DOUBLE SHAVE CREAM SQUIRT,
SQUIRT, CARTOON - LONG SHAVE CREAM SQUIRT,
SQUIRT, CARTOON - PAINT FIGHT SQUIRT, 01
SQUIRT, CARTOON - PAINT FIGHT SQUIRT, 02
SQUIRT, CARTOON - RAZZBERRY AND WHIP CREAM SQUIRT,
SQUIRT, CARTOON - RAZZBERRY AND WHIP CREAM SQUIRTS,
SQUIRT, CARTOON - SQUIRTING INTO EMPTY METAL BUCKET,
SQUIRT, CARTOON - SQUIRTING INTO HALF FULL BUCKET,
Squish, Cartoon
SQUISH, CARTOON - LITTLE SQUISH,
SQUISH, CARTOON - SOFT SQUISH,
SQUISH, CARTOON - SOFT SQUISH REVERSED,
SQUISH, CARTOON - GLOPPY PAINT FIGHT SQUISH,
SQUISH, CARTOON - ROTTEN EGG SQUISH,
SQUISH, CARTOON - SEVERAL SQUDGES,
SQUISH, CARTOON - SQUDGE AND SLIDE UP AND DOWN,
SQUISH, CARTOON - SQUISHY RUN UP,
Steam
STEAM - STEAM OR GAS PIPE HISS,
STEAM - BIG STEAM PUFFS, SLOW,
STEAM - BIG STEAM PUFFS, FAST,
STEAM - PUT HOT POKER IN WATER, 01
STEAM - PUT HOT POKER IN WATER, 02
Stretch, Cartoon
STRETCH, CARTOON - RUBBER STRETCH, SHORT, 01
STRETCH, CARTOON - RUBBER STRETCH, SHORT, 02
STRETCH, CARTOON - RUBBER STRETCH, MEDIUM,
STRETCH, CARTOON - RUBBER STRETCH, LONG,
STRETCH, CARTOON - RUBBER BALLOON STRETCH,
STRETCH, CARTOON - RESIN STRING STRETCH
STRETCH, CARTOON - PLASTIC MAN STRETCH, FORWARD,
STRETCH, CARTOON - PLASTIC MAN STRETCH, REVERSE,
STRETCH, CARTOON - STRETCH AND HIT, 01
STRETCH, CARTOON - STRETCH AND HIT, 02
STRETCH, CARTOON - STRETCH AND HIT, 03
STRETCH, CARTOON - BORK STRETCH,
Stretch, Rope
STRETCH, ROPE - STRETCHING ROPE CREAK, SHORT, 01
STRETCH, ROPE - STRETCHING ROPE CREAK, SHORT, 02
STRETCH, ROPE - STRETCHING ROPE CREAK, MEDIUM, 01
STRETCH, ROPE - STRETCHING ROPE CREAK, MEDIUM, 02
STRETCH, ROPE - STRETCHING ROPE CREAK, MEDIUM, 03
STRETCH, ROPE - STRETCHING ROPE CREAK, LONG,
STRETCH, ROPE - ROPE SWAY CREAKS,
Swish, Cartoon
SWISH, CARTOON - SHARP MOUTH SWISH,
SWISH, CARTOON - SINGLE SWISH,
SWISH, CARTOON - SEVERAL SWISHES, SLOW,
SWISH, CARTOON - SEVERAL SHARP ARROW SWISHES,
SWISH, CARTOON - SINGLE ROPE SWISH, 01
SWISH, CARTOON - SINGLE ROPE SWISH, 02
SWISH, CARTOON - SEVERAL FAST ROPE SWISHES,
SWISH, CARTOON - SEVERAL HEAVY ROPE SWISHES,
SWISH, CARTOON - SINGLE SWORD SWISH,
SWISH, CARTOON - DOUBLE SWORD SWISH,
SWISH, CARTOON - TRIPLE SWORD SWISH,
SWISH, CARTOON - CONTINUOUS SWORD SWISHES,
SWISH, CARTOON - MANY SWORD SWISHES,
SWISH, CARTOON - LOW, CLEAN SWISH,
SWISH, CARTOON - ROPE TWIRLING SWISHES,
SWISH, CARTOON - TWIRLING SWISH, SHORT, 01
SWISH, CARTOON - TWIRLING SWISH, SHORT, 02
SWISH, CARTOON - TWIRLING SWISH, MEDIUM,
SWISH, CARTOON - TWIRLING SWISH, LONG,
SWISH, CARTOON - FAST TWIRLING SWISH, SHORT, 01
SWISH, CARTOON - FAST TWIRLING SWISH, SHORT, 02
SWISH, CARTOON - FAST TWIRLING SWISH, MEDIUM,
SWISH, CARTOON - FAST TWIRLING SWISH, LONG,
Swoosh, Cartoon
SWOOSH, CARTOON - BIG SWOOSH, 01
SWOOSH, CARTOON - BIG SWOOSH, 02
SWOOSH, CARTOON - SHORT SWIRL SWOOSH
SWOOSH, CARTOON - LONG SWIRL SWOOSH,
SWOOSH, CARTOON - FAST AIR BY, 01
SWOOSH, CARTOON - FAST AIR BY, 02
SWOOSH, CARTOON - LONG AIR BY,
Sword, Cartoon
SWORD, CARTOON - SINGLE SWORD HIT,
SWORD, CARTOON - SEVERAL SWORD HITS,
SWORD, CARTOON - MANY RAPID SWORD HITS,
Take, Cartoon
TAKE, CARTOON - FUNNY RUN UP TAKE,
TAKE, CARTOON - SILLY SPRINGY TAKE,
TAKE, CARTOON - WAFFLE TUBE TAKE,
TAKE, CARTOON - FLAT TUBE TAKE,
Teeth, Cartoon
TEETH, CARTOON - SCOOBY'S TEETH CHATTER, SHORT,
TEETH, CARTOON - SCOOBY'S TEETH CHATTER, LONG,
Tennis
Thud, Cartoon
THUD, CARTOON - DULL THUD, SINGLE, RUN 01
THUD, CARTOON - DULL THUD, SINGLE, RUN 02
THUD, CARTOON - DULL THUD, SINGLE, RUN 03
THUD, CARTOON - DULL THUDS, VERY FAST, SHORT, RUN,
THUD, CARTOON - DULL THUDS, VERY FAST, LONG, RUN,
THUD, CARTOON - DULL THUDS, FAST, SHORT, RUN,
THUD, CARTOON - DULL THUDS, FAST, LONG, RUN,
THUD, CARTOON - DULL THUDS, MEDIUM FAST, SHORT, RUN,
THUD, CARTOON - DULL THUDS, MEDIUM FAST, LONG, RUN,
THUD, CARTOON - DULL THUDS, MEDIUM, SHORT, RUN,
THUD, CARTOON - DULL THUDS, MEDIUM, LONG, RUN,
THUD, CARTOON - DULL THUDS, MEDIUM SLOW, SHORT, RUN,
THUD, CARTOON - DULL THUDS, MEDIUM SLOW, LONG, RUN,
THUD, CARTOON - DULL THUDS, SLOW, SHORT, RUN,
THUD, CARTOON - DULL THUDS, SLOW, LONG, RUN,
THUD, CARTOON - DULL THUDS, VERY SLOW, SHORT, RUN,
THUD, CARTOON - DULL THUDS, VERY SLOW, LONG, RUN,
Thump, Cartoon
THUMP, CARTOON - TUBE THUNK, 01
THUMP, CARTOON - TUBE THUNK, 02
THUMP, CARTOON - DOUBLE TUBE THUNK,
Tip Toe, Cartoon
TIP TOE, CARTOON - XYLOPHONE TIP TOE, SHORT,
TIP TOE, CARTOON - XYLOPHONE TIP TOE, MEDIUM,
TIP TOE, CARTOON - XYLOPHONE TIP TOE, LONG,
Toilet, Cartoon
TOILET - PNEUMATIC TOILET FLUSH,
Trumpet, Cartoon
TRUMPET, CARTOON - SINGLE TRUMPET BLOW, 01
TRUMPET, CARTOON - SINGLE TRUMPET BLOW, 02
Twang, Cartoon
TWANG, CARTOON - HOYT'S BOW TWANG,
TWANG, CARTOON - HEAVY BOW TWANG,
TWANG, CARTOON - METALLIC RULER VIBRATE,
TWANG, CARTOON - SAW BLADE TWANG, 01
TWANG, CARTOON - SAW BLADE TWANG, 02
TWANG, CARTOON - SAW BLADE TWANG, 03
TWANG, CARTOON - FAST TWANG, SINGLE,
TWANG, CARTOON - FAST TWANGS, SHORT,
TWANG, CARTOON - FAST TWANGS, LONG,
TWANG, CARTOON - RUBBER BAND TWANG, SINGLE, 01
TWANG, CARTOON - RUBBER BAND TWANG, SINGLE, 02
TWANG, CARTOON - RUBBER BAND TWANG, SINGLE, 03
TWANG, CARTOON - RUBBER BAND TWANGS, DOUBLE,
TWANG, CARTOON - RUBBER BAND TWANGS, TRIPLE,
TWANG, CARTOON - CONTINUOUS RUBBER BAND TWANGS, SHORT,
TWANG, CARTOON - CONTINUOUS RUBBER BAND TWANGS, MEDIUM,
TWANG, CARTOON - CONTINUOUS RUBBER BAND TWANGS, LONG,
Twirl, Cartoon
TWIRL, CARTOON - FRISBEE TWIRL BY, SLOW,
TWIRL, CARTOON - FRISBEE TWIRL BY, MEDIUM,
TWIRL, CARTOON - FRISBEE TWIRL BY, FAST,
TWIRL, CARTOON - FRISBEE TWIRL, CONSTANT,
Typewriter
TYPEWRITER - MANUAL: SLOW TYPING ON OLD TYPEWRITER,
TYPEWRITER - ELECTRIC: FAST TYPING ON OLD ELECTRIC TYPEWRITER,
Waheep, Cartoon
Water, Drips
WATER, DRIP - DOUG'S DRIPS, SLOW,
WATER, DRIP - DOUG'S DRIPS, FAST,
WATER, DRIP - BLURP DRIPS, FAST,
WATER, DRIP - DRIPS IN METAL PAIL, LIGHT,
WATER, DRIP - DRIPS IN METAL PAIL, FAST,
WATER, DRIP - DRIPS IN METAL BUCKET, HEAVY,
Water, Flow
WATER, FLOW - LARGE TANK EMPTYING, 01
WATER, FLOW - LARGE TANK EMPTYING, 02
WATER, FLOW - WATER RUNNING DOWN DRAIN,
WATER, FLOW - FAUCET RUNNING IN TUB,
WATER, FLOW - WATER SPRAYING IN TUB, LIGHT,
WATER, FLOW - WATER SPRAYING IN TUB, HEAVY,
Water, Row
WATER, ROW - PADDLE CANOE SPLASHES, BOAT, CARTOON,
WATER, ROW - LIGHT ROWING SPLASHES, SLOW, BOAT, CARTOON,
WATER, ROW - LIGHT ROWING SPLASHES, FAST, BOAT, CARTOON,
WATER, ROW - HEAVY ROWING SPLASHES, SHORT, BOAT, CARTOON,
WATER, ROW - HEAVY ROWING SPLASHES, SLOW, BOAT, CARTOON,
WATER, ROW - HEAVY ROWING SPLASHES, MEDIUM, BOAT, CARTOON,
WATER, ROW - HEAVY ROWING SPLASHES, FAST, BOAT, CARTOON,
Water, Splash
WATER, SPLASH - LIGHT SPLASH, CARTOON, 01
WATER, SPLASH - LIGHT SPLASH, CARTOON, 02
WATER, SPLASH - EARS LIGHT SPLASH, CARTOON, 01
WATER, SPLASH - EARS LIGHT SPLASH, CARTOON, 02
WATER, SPLASH - EARS LIGHT SPLASHES CARTOON,
WATER, SPLASH - SPLASH WATER ON MAN, CARTOON,
WATER, SPLASH - VERY SMALL SPLASH, CARTOON,
WATER, SPLASH - TWO VERY SMALL SPLASHES, CARTOON,
WATER, SPLASH - LITTLE FOOTSTEP SPLASHES, CARTOON,
WATER, SPLASH - JUMP IN WATER SPLASH, CARTOON, 01
WATER, SPLASH - JUMP IN WATER SPLASH, CARTOON, 02
WATER, SPLASH - JUMP IN WATER SPLASH, CARTOON, 03
WATER, SPLASH - JUMP IN WATER AND SPLASH ABOUT, CARTOON, 01
WATER, SPLASH - JUMP IN WATER AND SPLASH ABOUT, CARTOON, 02
WATER, SPLASH - MEDIUM SPLASH, CARTOON,
WATER, SPLASH - HEAVY SPLASH, CARTOON,
WATER, SPLASH - BIG SPLASH AND SLOSH, CARTOON,
WATER, SPLASH - BIG SPLASH, CARTOON,
WATER, SPLASH - CONSTANT SPLASHING, LIGHT, CARTOON, 01
WATER, SPLASH - CONSTANT SPLASHING, LIGHT, CARTOON, 02
WATER, SPLASH - CONSTANT SPLASHING, HEAVY, CARTOON,
WATER, SPLASH - HEAVY WATER CHURN, CARTOON,
WATER, SPLASH - FISH SPLASH, CARTOON, 01
WATER, SPLASH - FISH SPLASH, CARTOON, 02
WATER, SPLASH - FISH SPLASH, CARTOON, 03
WATER, SPLASH - FISH SPLASH, CARTOON, 04
WATER, SPLASH - FISH SPLASH, CARTOON, 05
WATER, SPLASH - FISH SPLASH, CARTOON, 06
WATER, SPLASH - FISH SPLASH, CARTOON, 07
WATER, SPLASH - FISH SPLASH, CARTOON, 08
WATER, SPLASH - FISH SPLASH, CARTOON, 09
WATER, SPLASH - CONSTANT FISH SPLASHING, LIGHT, CARTOON,
WATER, SPLASH - CONSTANT FISH SPLASHING, HEAVY, CARTOON,
Water, Swimming
WATER, SWIMMING - SMOOTH SWIMMING SPLASHES, CARTOON,
WATER, SWIMMING - SWIMMING SPLASHES, CARTOON,
Water, Underwater
WATER, UNDERWATER - AQUA BY, SLOW,
WATER, UNDERWATER - AQUA BY, MEDIUM, 01
WATER, UNDERWATER - AQUA BY, MEDIUM, 02
WATER, UNDERWATER - AQUA BY, FAST, 01
WATER, UNDERWATER - AQUA BY, FAST, 02
WATER, UNDERWATER - SCUBA BREATHING UNDERWATER,
WATER, UNDERWATER - CONSTANT UNDERWATER BUBBLES, 01
WATER, UNDERWATER - CONSTANT UNDERWATER BUBBLES, 02
WATER, UNDERWATER - UNDERWATER BUBBLE BY,
WATER, UNDERWATER - UNDERWATER SPLASH,
WATER, UNDERWATER - UNDERWATER BOOM AND BUBBLES,
WATER, UNDERWATER - BOOMING UNDERWATER SPLASH,
WATER, UNDERWATER - UNDERWATER EXPLOSION, 01
WATER, UNDERWATER - UNDERWATER EXPLOSION, 02
WATER, UNDERWATER - UNDERWATER EXPLOSION, 03
Whine, Cartoon
WHINE, CARTOON - SHELL SCREAMING WHINE DOWN,
Whip, Cartoon
Whiplash, Cartoon
WHIPLASH, CARTOON - STRETCH AND SNAP,
Wobble, Cartoon
WOBBLE, CARTOON - SAW BLADE WOBBLE, SHORT,
WOBBLE, CARTOON - SAW BLADE WOBBLE, MEDIUM, 01
WOBBLE, CARTOON - SAW BLADE WOBBLE, MEDIUM, 02
WOBBLE, CARTOON - SAW BLADE WOBBLE, LONG,
Xylophone
XYLOPHONE - XYLOPHONE: QUICK GLISS UP, CARTOON, MUSIC, PERCUSSION,
XYLOPHONE - XYLOPHONE: LONG GLISS UP, CARTOON, MUSIC, PERCUSSION,
XYLOPHONE - XYLOPHONE: QUICK GLISS DOWN, CARTOON, MUSIC, PERCUSSION,
XYLOPHONE - XYLOPHONE: QUICK GLISS UP AND DOWN, CARTOON, MUSIC, PERCUSSION,
XYLOPHONE - XYLOPHONE: LONG RUN UP, CARTOON, MUSIC, PERCUSSION,
XYLOPHONE - XYLOPHONE: LONG RUN DOWN, CARTOON, MUSIC, PERCUSSION,
Zap, Cartoon
Zip, Cartoon
ZIP, CARTOON - QUICK WHISTLE ZIP OUT,
ZIP, CARTOON - QUICK WHISTLE ZIP OUT, HIGH,
ZIP, CARTOON - QUICK WHISTLE ZIP IN,
ZIP, CARTOON - QUICK SLIDE WHISTLE ZIP UP,
ZIP, CARTOON - QUICK SLIDE WHISTLE ZIP DOWN,
ZIP, CARTOON - QUICK FIDDLE ZIP UP,
ZIP, CARTOON - QUICK FIDDLE ZIP UP, HIGH,
ZIP, CARTOON - QUICK FIDDLE ZIP DOWN,
ZIP, CARTOON - BIG WHISTLE ZING OUT,
ZIP, CARTOON - BIG WHISTLE ZING IN,
ZIP, CARTOON - BIG WHISTLE ZING IN, LONG,
ZIP, CARTOON - SHARP WHISTLE ZIP,
ZIP, CARTOON - SHORT BABOO ZIP,
ZIP, CARTOON - FUNNY WHINE ZIP,
ZIP, CARTOON - HIGH ENERGY ZIP,
ZIP, CARTOON - XYLO GLISS ZIP,
ZIP, CARTOON - HIGH FIDDLE ZIP,
ZIP, CARTOON - RICCO ZIP IN, 01
ZIP, CARTOON - RICCO ZIP IN, 02
ZIP, CARTOON - LONG RICCO ZIP IN, 01
ZIP, CARTOON - LONG RICCO ZIP IN, 02
ZIP, CARTOON - LONG RICCO ZIP IN, 03
ZIP, CARTOON - COWBELL RATTLE AND ZIP
ZIP, CARTOON - FAST WARBLE ZIP UP,
ZIP, CARTOON - FAST WARBLE ZIP DOWN,
ZIP, CARTOON - BUBBLE RUN UP, 01
ZIP, CARTOON - BUBBLE RUN UP, 02
ZIP, CARTOON - REVERSE ZIP AND BUBBLE,
ZIP, CARTOON - GURGLE ZIP OUT,
ZIP, CARTOON - GURGLE ZIP OUT, LONG,
ZIP, CARTOON - GURGLE ZIP IN, LONG,
ZIP, CARTOON - FIJIT REWIND, 01
ZIP, CARTOON - FIJIT REWIND, 02
Zonk, Cartoon
Zoom, Cartoon
ZOOM, CARTOON - BROOM TAKE OFF,
Alligator
ALLIGATOR - ALLIGATOR HISS, ANIMAL, REPTILE,
Anteater
ANTEATER - ANTEATER GROWL, ANIMAL,
Ape
APE - SIAMUNG: HOOTS AND CALLS, ANIMAL,
Badger
BADGER - MEAN SNARL AND BARK, ANIMAL,
BADGER - MEAN SNARL AND GROWL, ANIMAL,
BADGER - MEAN GROWLS AND SNARLS, ANIMAL,
Barnyard
BARNYARD - CHICKENS, DUCKS, GEESE AND BIRDS, ANIMAL,
BARNYARD - DUCKS, GEESE, CHICKENS, ANIMAL,
Bat
Bear
BEAR - CUB GROANS AND BARKS, ANIMAL,
BEAR - BEAR SNORING, LONG AND SLOW, ANIMAL,
BEAR - BEAR SNORING, SHORT AND FAST, ANIMAL,
BEAR - EATING AND SLURPING, ANIMAL,
Bees
BEES - SINGLE BEE BUZZING, ANIMAL, INSECT,
BEES - SINGLE BUMBLE BEE BUZZING, ANIMAL, INSECT,
BEES - SINGLE BEE FLY BY, ANIMAL, INSECT,
BEES - SINGLE BEE BUZZING ABOUT, ANIMAL, INSECT,
BEES - ACTIVE BUZZING, ANIMAL, INSECT,
BEES - LARGE SWARM BUZZING, ANIMAL, INSECT,
BEES - ACTIVE BUZZING AROUND BEEHIVE, ANIMAL, INSECT,
Bird, Bluebird
BIRD, BLUEBIRD - BLUEBIRD CHIRPS, ANIMAL,
BIRD, BLUEBIRD - BLUEBIRDS CHIRPING, ANIMAL,
Bird, Buzzard
BIRD, BUZZARD - BIG BUZZARD, FUNNY SQUAWK, ANIMAL,
Bird, Chicken
BIRD, CHICKEN - SINGLE CHICK PEEP, ANIMAL,
BIRD, CHICKEN - SINGLE CHICK PEEPING, ANIMAL,
BIRD, CHICKEN - SEVERAL CHICKS CHIRPING AND PEEPING, ANIMAL,
BIRD, CHICKEN - FUNNY HEN CLUCKS, ANIMAL,
BIRD, CHICKEN - SINGLE CHICKEN SQUAWKING, ANIMAL,
BIRD, CHICKEN - SINGLE CHICKEN CLUCKING, ANIMAL,
BIRD, CHICKEN - CHICKENS: LOUD CLUCKING, ANIMAL,
BIRD, CHICKEN - EXCITED CHICKENS IN COOP, ANIMAL,
Bird, Cockatoo
BIRD, COCKATOO - SQUEAKY SQUAWK, ANIMAL,
Bird, Columbia
BIRD, COLUMBIA - LOW THROATY CALLS, ANIMAL,
Bird, Crane
BIRD, CRANE - SAURAUS CRANE: SCREECHY CALLS, ANIMAL,
Bird, Crow
BIRD, CROW - SINGLE CROW CAWS, ANIMAL,
BIRD, CROW - SINGLE CROW SQUAWKS, ANIMAL,
BIRD, CROW - SINGLE CROW CAWING, ANIMAL,
BIRD, CROW - THREE CROWS CAWING, ANIMAL,
Bird, Duck
BIRD, DUCK - SINGLE DUCK QUACKING, ANIMAL,
Bird, Goose
BIRD, GOOSE - SINGLE GOSLING PEEPING, ANIMAL,
BIRD, GOOSE - SINGLE GOOSE HONKS, ANIMAL,
BIRD, GOOSE - SINGLE GOOSE HONKING, ANIMAL,
BIRD, GOOSE - SINGLE GOOSE CHIRPING, ANIMAL,
BIRD, GOOSE - SEVERAL GEESE HONKING, ANIMAL,
Bird, Hawk
BIRD, HAWK - SINGLE HAWK CHIRPING, ANIMAL,
BIRD, HAWK - SINGLE HAWK: SICK SCREECH, ANIMAL,
BIRD, HAWK - SINGLE HAWK SCREECHING, ANIMAL,
Bird, Meadowlark
BIRD, MEADOWLARK - VARIOUS MEADOWLARK CHIRPS, ANIMAL,
Bird, Owl
BIRD, OWL - SINGLE OWL HOOTS, ANIMAL
BIRD, OWL - SINGLE OWL HOOTING, ANIMAL,
Bird, Parrot
BIRD, PARROT - FUNNY PARROT SQUAWK AND WHISTLE, ANIMAL,
BIRD, PARROT - FUNNY PARROT SQUAWKS AND WHISTLES, ANIMAL,
BIRD, PARROT - PARROT SQUAWKS, ANIMAL,
Bird, Pigeon
BIRD, PIGEON - PIGEON COOING, ANIMAL,
Bird, Rooster
BIRD, ROOSTER - ROOSTER MORNING CALL, ANIMAL, 01
BIRD, ROOSTER - ROOSTER MORNING CALL, ANIMAL, 02
Bird, Toucan
BIRD, TOUCAN - TOCO TOUCAN CALLING, ANIMAL,
Bird, Turkey
BIRD, TURKEY - TURKEY GOBBLE, ANIMAL, 01
BIRD, TURKEY - TURKEY GOBBLE, ANIMAL, 02
Bird, Woodpecker
BIRD, WOODPECKER - WOODPECKER CHIRPS, ANIMAL,
Birds, Various
BIRDS, VARIOUS - MANY BIRDS CHIRPING, ANIMAL,
BIRDS, VARIOUS - LIGHT CHIRPING, ANIMAL,
BIRDS, VARIOUS - HAPPY CHIRPING, ANIMAL,
BIRDS, VARIOUS - LIGHT CHIRPING AND TWITTERING, ANIMAL,
BIRDS, VARIOUS - MORNING BIRDS CHIRPING, STREAM IN B/G, ANIMAL,
Birds, Jungle
BIRDS, JUNGLE - AFTERNOON JUNGLE BIRDS CALLING, ANIMAL,
BIRDS, JUNGLE - BIRDS CHIRPING, WIND AND WATER IN B/G, ANIMAL,
BIRDS, JUNGLE - EXOTIC RIVER BIRDS WITH WATER IN B/G, ANIMAL,
BIRDS, JUNGLE - EXOTIC BIRDS WHISTLING WITH CRICKETS IN B/G, ANIMAL,
Camel
Cat
Chimpanzee
CHIMPANZEE - LIGHT CHATTER, ANIMAL, APE,
CHIMPANZEE - CHIMP SCREAMS, ANIMAL, APE,
CHIMPANZEE - CHIMP SCREAMS AND CHIRPS, ANIMAL, APE,
Cougar
COUGAR - SEVERAL SNARLS, ANIMAL, CAT,
COUGAR - YOWLS AND MEOWS, ANIMAL, CAT,
COUGAR - VICIOUS SNARLS AND GROWLS, ANIMAL, CAT,
Cow
COW - SINGLE COW MOO, ANIMAL, 01
COW - SINGLE COW MOO, ANIMAL, 02
COW - SINGLE COW MOO, ANIMAL, 03
COW - SEVERAL ANGRY MOOS, ANIMAL,
COW - DISTANT MOOS FROM HERD, ANIMAL,
COW - SEVERAL COWS MOOING IN BARN, ANIMAL,
COW - FUNNY COWS MOOING, ANIMAL,
Coyote
Cricket
CRICKET - TWO CRICKETS CHIRPING, ANIMAL, INSECT,
Crocodile
CROCODILE - SINGLE GROWL, ANIMAL, REPTILE,
CROCODILE - GROWLING, ANIMAL, REPTILE,
Dog
DOG - SMALL DOG BARKS, ANIMAL,
DOG - SMALL YAPPY DOG BARKS, ANIMAL, 01
DOG - SMALL YAPPY DOG BARKS, ANIMAL, 02
DOG - SMALL FUNNY DOG BARKS, ANIMAL,
DOG - SMALL DOG BARKING, ANIMAL,
DOG - SMALL TERRIER BARKING, ANIMAL,
DOG - SMALL SPANIEL EXCITED BARKING, ANIMAL,
DOG - ST. BERNARD BARKS AND GROWLS, ANIMAL,
DOG - BLOODHOUND BARKING, ANIMAL 01,
DOG - BLOODHOUND BARKING, ANIMAL 02,
DOG - LARGE DOG: SINGLE SHORT BARK, ANIMAL,
DOG - LARGE DOG: SHARP BARKS, ANIMAL,
DOG - LARGE DOG: MEAN BARKS AND GROWLS, ANIMAL,
DOG - LARGE DOG: EXCITED BARKING, ANIMAL,
DOG - PIT BULL BARKING, ANIMAL,
DOG - GERMAN SHEPHERD: ANGRY GROWLS AND BARKS, ANIMAL,
DOG - TWO LARGE DOGS: VICIOUS BARKS, ANIMAL,
DOG - MANY DOGS BARKING IN KENNEL, ANIMAL,
DOG - SPANIEL: ANGRY GROWLS, ANIMAL,
DOG - MEDIUM DOG WHINING, ANIMAL
DOG - MEDIUM DOG WHINY HOWLS, ANIMAL,
DOG - MEDIUM DOG PAINFUL YELPS, ANIMAL,
DOG - LARGE DOG WHINES AND YELPS, ANIMAL,
DOG - SMALL DOG WHINING, ANIMAL,
DOG - SMALL DOG: PAINFUL SQUEALS, ANIMAL,
DOG - DOG LAPPING WATER, ANIMAL,
DOG - FUNNY DOG DIGGING, ANIMAL,
DOG - FUNNY DOG SCRATCHES, ANIMAL,
Donkey
DONKEY - DONKEY BRAYING, ANIMAL, 01
DONKEY - DONKEY BRAYING, ANIMAL, 02
DONKEY - DONKEY BRAYING, ANIMAL, 03
Elephant
ELEPHANT - ELEPHANT TRUMPETING, THREE TIMES, ANIMAL,
ELEPHANT - SINGLE ELEPHANT TRUMPET, ANIMAL,
ELEPHANT - SEVERAL ELEPHANT TRUMPETS, ANIMAL,
ELEPHANT - BIG ELEPHANT ROAR, ANIMAL, 01
ELEPHANT - BIG ELEPHANT ROAR, ANIMAL, 02
ELEPHANT - SEVERAL ELEPHANT ROARS, ANIMAL,
ELEPHANT - SEVERAL ELEPHANTS TRUMPETING, ANIMAL,
Fly
FLY - SINGLE FLY BUZZING, ANIMAL, INSECT,
FLY - SINGLE FLY BUZZING AROUND, ANIMAL, INSECT, 01
FLY - SINGLE FLY BUZZING AROUND, ANIMAL, INSECT, 02
FLY - SINGLE FLY BUZZING AROUND, ANIMAL, INSECT, 03
FLY - SINGLE FLY BUZZ BYS, ANIMAL, INSECT,
Frog
FROG - LARGE MOAT FROG CROAKING, ANIMAL, AMPHIBIAN,
FROG - LARGE FROG: SINGLE RIBBITS, ANIMAL, AMPHIBIAN
FROG - BULLFROG CROAKING, ANIMAL, AMPHIBIAN,
FROG - SEVERAL FROGS CROAKING, ANIMAL, AMPHIBIAN, 01
FROG - SEVERAL FROGS CROAKING, ANIMAL, AMPHIBIAN, 02
FROG - FUNNY GLOPPY FROG HOPPING, SHORT, ANIMAL, AMPHIBIAN,
FROG - FUNNY GLOPPY FROG HOPPING, LONG, ANIMAL, AMPHIBIAN,
Goat
GOAT - SINGLE GOAT BLEATING, ANIMAL,
Gorilla
GORILLA - SINGLE BREATH, ANIMAL, APE,
GORILLA - BREATHS-AND GRUNTS, ANIMAL, APE,
GORILLA - SNORTS AND GRUNTS, ANIMAL, APE,
Hippopotamus
HIPPOPOTAMUS - HIPPO VOCALIZING, ANIMAL,
Horse
HORSE - SINGLE WHINNY, ANIMAL,
Horse, Cartoon
HORSE, CARTOON - HORSE WALKING,
HORSE, CARTOON - HORSE WALK ON CEMENT,
HORSE, CARTOON - HORSE CANTER, 01
HORSE, CARTOON - HORSE CANTER, 02
HORSE, CARTOON - FUNNY CARTOON HORSE GALLOP, SHORT,
HORSE, CARTOON - FUNNY CARTOON HORSE GALLOP, LONG,
HORSE, CARTOON - HORSE GALLOP FAST,
HORSE, CARTOON - HORSE GALLOP,
HORSE, CARTOON - FAST GALLOP ON WOOD, SHORT,
HORSE, CARTOON - FAST GALLOP ON WOOD, LONG,
HORSE, CARTOON - STAMPEDE GALLOP, SHORT,
HORSE, CARTOON - STAMPEDE GALLOP, MEDIUM,
HORSE, CARTOON - STAMPEDE GALLOP, LONG,
Hyena
HYENA - HYENA LAUGHING, ANIMAL,
Lamb
Leopard
LEOPARD - GROWLING, ANIMAL, CAT,
LEOPARD - MENACING GROWLS, ANIMAL, CAT,
LEOPARD - GROWLS AND SNARLS, ANIMAL, CAT,
Llama
LLAMA - LLAMA VOCALIZING, ANIMAL,
Lion
LION - LION CUB CRIES, ANIMAL, CAT,
LION - SINGLE GROWL, ANIMAL, CAT,
LION - SINGLE ROAR, ANIMAL, CAT,
LION - BIG GROWLS, ANIMAL, CAT,
LION - BIG ROARS, ANIMAL, CAT,
LION - SNARLS AND GROWLS, ANIMAL, CAT, 01
LION - SNARLS AND GROWLS, ANIMAL, CAT, 02
Monkey
MONKEY - SMALL MONKEY SQUEAKS, ANIMAL, APE,
MONKEY - SMALL MONKEY CHATTERING, ANIMAL, APE,
MONKEY - SPIDER MONKEY CHATTERING, ANIMAL, APE,
Monster
MONSTER - CYCLOPS ROAR, CREATURE, CARTOON, ANIMAL,
MONSTER - CYCLOPS SCREECH, CREATURE, CARTOON, ANIMAL,
MONSTER - DRAGON GROWL, CREATURE, CARTOON, ANIMAL,
MONSTER - DRAGON GROAN, CREATURE, CARTOON, ANIMAL,
MONSTER - MONSTER HISSING, CREATURE, CARTOON, ANIMAL,
MONSTER - BEAST GROWL, CREATURE, CARTOON, ANIMAL,
MONSTER - BIG BEAST GROWL, CREATURE, CARTOON, ANIMAL, 01
MONSTER - BIG BEAST GROWL AND SNARL, CREATURE, CARTOON, ANIMAL, 01
MONSTER - BIG BEAST GROWL AND SNARL, CREATURE, CARTOON, ANIMAL, 02
MONSTER - BIG BEAST GROWL, CREATURE, CARTOON, ANIMAL, 02
MONSTER - MR. HYDE GROWLS, CREATURE, CARTOON, ANIMAL,
MONSTER - THE BLOB, CREATURE, CARTOON, ANIMAL,
MONSTER - BIRD MONSTER SCREECHING, CREATURE, CARTOON, ANIMAL,
MONSTER - TETRAPOD SNARLS, CREATURE, CARTOON, ANIMAL,
MONSTER - HIGH PITCHED MONSTER SCREAM, CREATURE, CARTOON, ANIMAL,
MONSTER - GROWLY MONSTER BREATHING, CREATURE, CARTOON, ANIMAL,
MONSTER - CRUNCHY MONSTER FOOTSTEPS, CREATURE, CARTOON, ANIMAL,
MONSTER - FAST MONSTER FOOTSTEPS, CREATURE, CARTOON, ANIMAL,
Pig
PIG - GRUNTS AND SQUEALS, ANIMAL,
PIG - SNORTS AND SQUEALS, ANIMAL,
PIG - LOUD SHARP SQUEALS, ANIMAL,
PIG - SNORTS AND GRUNTS, ANIMAL,
PIG - SQUEALS AND GRUNTS, ANIMAL,
Rat
RAT - RAT SQUEAKS, ANIMAL, RODENT,
Rhinoceros
RHINOCEROS - LOW GROWLS, ANIMAL,
Seal
Sheep
SHEEP - HERD OF SHEEP BAAING, ANIMAL,
Squirrel
SQUIRREL - SHORT CHATTER, ANIMAL, RODENT,
SQUIRREL - CHATTERING, ANIMAL, RODENT,
Tiger
TIGER - LOUD GROWLS, ANIMAL, CAT,
TIGER - LOW GROWLS, ANIMAL, CAT,
TIGER - BENGAL TIGER GROWLS, ANIMAL, CAT,
TIGER - GROWLING, ANIMAL, CAT,
TIGER - SUMATRAN TIGER ROARS, ANIMAL, CAT,
TIGER - SNARLS AND GROWLS, ANIMAL, CAT, 01
TIGER - SNARLS AND GROWLS, ANIMAL, CAT, 02
TIGER - BIG GROWLS, ANIMAL, CAT,
TIGER - ANGRY GROWLS, ANIMAL, CAT,
Wolf
WOLF - LONG REVERBERANT HOWL, ANIMAL,
WOLF - ANGRY GROWLS, ANIMAL, 01
WOLF - MENACING GROWLS AND BARK, ANIMAL,
WOLF - MENACING GROWLS, ANIMAL,
WOLF - VICIOUS SNARLS, ANIMAL,
WOLF - ANGRY GROWLS, ANIMAL, 02
WOLF - WOLF PACK WHINING, ANIMAL,
HB-03
Magic
MAGIC - SINGLE MAGIC WAND HIT,
MAGIC - SEVERAL MAGIC WAND HITS
MAGIC - MAGIC ZAP AND GLISTEN,
MAGIC - MAGIC STAR VIBRATE AND POP,
MAGIC - SHAZZAN'S RING GLOW AND POP,
MAGIC - RUPERT'S MAGIC CHIMES,
MAGIC - HALO MATERIALIZE, SHORT
MAGIC - HALO MATERIALIZE, LONG,
MAGIC - MAGIC BELL GLISS UP, 01
MAGIC - MAGIC BELL GLISS UP, 02
MAGIC - MAGIC BELL GLISS DOWN, 01
MAGIC - MAGIC BELL GLISS DOWN, 02
Electricity
ELECTRICITY - ELECTRIC SPARK GAP, INTERMITTENT,
ELECTRICITY - ELECTRIC SPARK GAP, CONSTANT,
ELECTRICITY - ELECTRIC HUM AND CRACKLE,
ELECTRICITY - ELECTRIC HUM AND BUZZ,
Electronic
ELECTRONIC - ELECTRONIC MAGIC, 01
ELECTRONIC - ELECTRONIC MAGIC, 02
ELECTRONIC - MOOG BLIP, MEDIUM, 01
ELECTRONIC - MOOG BLIP, MEDIUM, 02
ELECTRONIC - OSCILLATOR WHIPLASH,
ELECTRONIC - OSCILLATOR WITH REVERB,
ELECTRONIC - VARIOUS OSCILLATOR TONES,
ELECTRONIC - STEADY OSCILLATOR,
ELECTRONIC - OSCILLATOR HUM, SLOW TO FAST,
ELECTRONIC - WEIRD ELECTRONIC SIGNAL,
ELECTRONIC - ELECTRONIC WHIRLINE, SLOW TO FAST,
ELECTRONIC - LITTLE DOUBLE WHINE,
ELECTRONIC - PULSING, LOW SPEED HUM,
ELECTRONIC - HUM TUBE, FORWARD,
ELECTRONIC - HUM TUBE, REVERSED,
ELECTRONIC - MOOG SLIDE UP, SINGLE, 01
ELECTRONIC - MOOG SLIDE UP, SINGLE, 02
ELECTRONIC - MOOG SLIDE UP, LONG,
ELECTRONIC - MOOG SLIDE UP WITH HARMONICS,
ELECTRONIC - MOOG SLIDE UPS WITH HARMONICS,
ELECTRONIC - VARIOUS MOOG SLIDE UPS,
ELECTRONIC - MOOG SLIDE DOWNS, 01
ELECTRONIC - MOOG SLIDE DOWNS, 02
ELECTRONIC - MOOG SLIDE DOWN WITH HARMONICS,
ELECTRONIC - MOOG SPEEDUPS, 01
ELECTRONIC - MOOG SPEEDUPS, 02
ELECTRONIC - MOOG SPEEDUPS, 03
ELECTRONIC - MOOG CONSTANT EFFECT, 01
ELECTRONIC - MOOG CONSTANT EFFECT, 02
ELECTRONIC - MOOG CYCLE, HIGH, 01
ELECTRONIC - MOOG CYCLE, DOWN,
ELECTRONIC - MOOG CYCLE, HIGH, 02
ELECTRONIC - MOOG CYCLE, LOW AND HIGH,
Sci Fi
SCI FI - SUPERMAN FLYING WIND,
SCI FI - GREEN LANTERN RAY, 01
SCI FI - GREEN LANTERN RAY, 02
SCI FI - GREEN LANTERN CONSTANT RAY
SCI FI - ERSATZ LIGHT SWORD HUM, 01
SCI FI - ERSATZ LIGHT SWORD HUM 02,
SCI FI - DECEPTION HEADQUARTERS HUM,
SCI FI - SPACE SUB INTERIOR RUMBLE,
SCI FI - WEIRD SPACE OSCILLATIONS
SCI FI - CONSTANT SPACE OSCILLATIONS,
SCI FI - HAUNTED SPACE WHINES,
SCI FI - HALL OF JUSTICE COMPUTER,
SCI FI - LEGION OF DOOM BACKGROUND,
SCI FI - STARGATE SPARKLE, SHORT,
SCI FI - STARGATE SPARKLE, LONG,
SCI FI - UNDERSEA CRYSTAL PULSE AND HUM, 01
SCI FI - UNDERSEA CRYSTAL PULSE AND HUM, 02
SCI FI - UNDERSEA CRYSTAL PULSE,
SCI FI - UNDERSEA CRYSTAL PULSE AND HUM, 03
SCI FI - UNDERSEA CRYSTAL PULSE AND HUM, 04
SCI FI - UNDERSEA CRYSTAL PULSE AND HUM, 05
SCI FI - UNDERSEA CRYSTAL PULSE AND HUM, 06
SCI FI - ELECTRONIC LABORATORY,
SCI FI - AQUA GUN SUPER BURST,
SCI FI - KERRY'S LASER, SINGLE, 01
SCI FI - KERRY'S LASER, SINGLE, 02
SCI FI - KERRY'S LASER, DOUBLE,
SCI FI - KERRY'S SPACE BATTLE,
SCI FI - BOOMING LASER, SINGLE, 01
SCI FI - BOOMING LASER, SINGLE, 02
SCI FI - BOOMING LASER, SINGLE, 03
SCI FI - BOOMING LASER, TWO TIMES,
SCI FI - BOOMING LASER, THREE TIMES,
SCI FI - SHARP LASER, SEVERAL,
SCI FI - WHIPLASH LASER, SINGLE, SHORT,
SCI FI - WHIPLASH LASER, SINGLE, 01
SCI FI - WHIPLASH LASER, SINGLE, 02
SCI FI - WHIPLASH LASER, SINGLE, LONG,
SCI FI - WHIPLASH LASER, SEVERAL,
SCI FI - HARSH LASER, FOUR TIMES,
SCI FI - LASER RAY, VARIOUS PITCHES,
SCI FI - RATNOSE SPACE RAY, 01
SCI FI - RATNOSE SPACE RAY, 02
SCI FI - SPACE POPS AND FLASHES,
SCI FI - SPACE RAY GUN SHOOT, 01
SCI FI - SPACE RAY GUN SHOOT, 02
SCI FI - SPACE RAY GUN SHOOT, 03
SCI FI - SPACE SCATTER RAY, 01
SCI FI - SPACE SCATTER RAY, 02
SCI FI - HRC NOSE CANNON, SINGLE,
SCI FI - HRC NOSE CANNON, SEVERAL,
SCI FI - SINGLE HRC TRACER SHOT,
SCI FI - HRC TRACER SHOTS AND EXPLOSION,
SCI FI - JEFF'S SPACE EFFECT, 01
SCI FI - JEFF'S SPACE EFFECT, 02
SCI FI - JEFF'S SPACE EFFECT, 03
SCI FI - JEFF'S SPACE EFFECT, 04
SCI FI - JEFF'S SPACE EFFECT, 05
SCI FI - JEFF'S SPACE EFFECT, 06
SCI FI - JEFF'S SPACE EFFECT, 07
SCI FI - JEFF'S SPACE EFFECT, 08
SCI FI - ROCKET CLICK START AND WIND UP,
SCI FI - AIR TO AIR ROCKET FIRE,
SCI FI - ROCKET BLAST OFF WITH FIZZLE,
SCI FI - BIG ROCKET BLAST OFF,
SCI FI - ROCKET BLAST OFF AND AWAY,
SCI FI - ROCKET FIRE AND EXPLODE,
SCI FI - ROCKET LAND AND IDLE,
SCI FI - TITAN ROCKET BLAST OFF, 01
SCI FI - TITAN ROCKET BLAST OFF, 02
SCI FI - ROCKET DOCKING CLANK,
SCI FI - SPACE SHIP START AND RUN,
SCI FI - SPACE SHIP HOVER AND TAKE OFF,
SCI FI - SKY HOOK'S SPACE SHIP, CONSTANT,
SCI FI - MILT'S SAUCER, CONSTANT,
SCI FI - SAUCER LANDING WHINE,
SCI FI - FLYING SAUCER: LOW SPEED,
SCI FI - FLYING SAUCER: MEDIUM SPEED, 01
SCI FI - FLYING SAUCER: MEDIUM SPEED, 02
SCI FI - FLYING SAUCER: HIGH SPEED,
SCI FI - FLYING SAUCER: PASS BY,
SCI FI - FLYING SAUCER: TWO PASS BYS,
SCI FI - FLYING SAUCER: LOW TO MEDIUM SPEED,
SCI FI - FLYING SAUCER: MEDIUM TO HIGH SPEED,
SCI FI - FLYING SAUCER: LOW TO HIGH SPEED,
SCI FI - FLYING SAUCER: HIGH TO LOW SPEED,
SCI FI - FLYING SAUCER: SNAFU,
SCI FI - AQUAMAN SCOOTER: START, RUN, STOP, 01
SCI FI - AQUAMAN SCOOTER: START, RUN, STOP, 02
SCI FI - AQUAMAN SCOOTER: CONSTANT,
SCI FI - AQUAMAN SCOOTER: PASS BY SLOW, 01
SCI FI - AQUAMAN SCOOTER: PASS BY SLOW, 02
SCI FI - AQUAMAN SCOOTER: PASS BY MEDIUM,
SCI FI - AQUAMAN SCOOTER: PASS BY FAST,
SCI FI - AQUAMAN SCOOTER: MOTOR TROUBLE,
SCI FI - JETSONS SPACE CAPSULE: START, RUN,
SCI FI - JETSONS SPACE CAPSULE: START, RUN, STOP,
SCI FI - JETSONS SPACE CAPSULE: START AND AWAY,
SCI FI - JETSONS SPACE CAPSULE: IN FLIGHT, 01
SCI FI - JETSONS SPACE CAPSULE: IN FLIGHT, 02
SCI FI - JETSONS SPACE CAPSULE: IN FLIGHT, 03
SCI FI - JETSONS SPACE CAPSULE: IN FLIGHT, 04
SCI FI - JETSONS SPACE CAPSULE: PASS BY, 01
SCI FI - JETSONS SPACE CAPSULE: PASS BY, 02
SCI FI - JETSONS SPACE CAPSULE: PASS BY, 03
SCI FI - JETSONS SPACE CAPSULE: PASS BY, 04
SCI FI - JETSONS SPACE CAPSULE: LAND AND STOP, 01
SCI FI - JETSONS SPACE CAPSULE: LAND AND STOP, 02
SCI FI - JETSONS SPACE CAPSULE: LAND AND STOP, 03
SCI FI - JETSONS SPACE TRAFFIC, 01
SCI FI - JETSONS SPACE TRAFFIC, 02
SCI FI - SPACE CAPSULE: START AND AWAY, 01
SCI FI - SPACE CAPSULE: START AND AWAY, 02
SCI FI - SPACE CAPSULE: IN AND STOP,
SCI FI - SPACE CAPSULE: FAST PASS BY, 01
SCI FI - SPACE CAPSULE: FAST PASS BY, 02
SCI FI - SPACE CAPSULE: FAST PASS BY, 03
SCI FI - SPACE CAPSULE: FAST PASS BY, 04
SCI FI - SPACE CAPSULE: FAST PASS BY, 05
SCI FI - SPACE CAPSULE: FAST PASS BY, 06
SCI FI - JET PACK: START, LIFT OFF,
SCI FI - JET PACK: IN FLIGHT, 01
SCI FI - JET PACK: IN FLIGHT, 02
SCI FI - JET PACK: IN AND STOP, 01
SCI FI - JET PACK: IN AND STOP, 02
SCI FI - ROCKET LAND SPEEDER: START AND AWAY,
SCI FI - ROCKET LAND SPEEDER: START, RUN, STOP,
SCI FI - ROCKET LAND SPEEDER: CONSTANT,
SCI FI - ROCKET LAND SPEEDER: PASS BY FAST, 01
SCI FI - ROCKET LAND SPEEDER: PASS BY FAST, 02
SCI FI - ROCKET LAND SPEEDER: PASS BY SLOW,
SCI FI - ROCKET LAND SPEEDER: APPROACH AND PASS BY,
SCI FI - EVIL SUB: START, RUN, STOP,
SCI FI - EVIL SUB: PASS BY, 01
SCI FI - EVIL SUB: PASS BY, 02
SCI FI - SPACEY SWOOSH UP AND DOWN, 01
SCI FI - SPACEY SWOOSH UP AND DOWN, 02
SCI FI - SPACEY SWOOSH BY, SHORT,
SCI FI - SPACEY SWOOSH BY, LONG,
SCI FI - SHORT ZAP, FORWARD, 01
SCI FI - SHORT ZAP, REVERSED, 01
SCI FI - SHORT ZAP, FORWARD, 02
SCI FI - SHORT ZAP, REVERSED, 02
SCI FI - THIN DOUBLE RICCO ZAP,
SCI FI - WEIRD ECHOEY ZAP, TWO TIMES,
Radio, Tuning
RADIO, TUNING - CAROL'S RADIO STATIC,
RADIO, TUNING - RADIO STATIC AND POPS, 01
RADIO, TUNING - RADIO STATIC AND POPS, 02
RADIO, TUNING - RADIO STATIC AND POPS, 03
RADIO, TUNING - RADIO STATIC, POPS AND WHINES,
Avalanche
AVALANCHE - AVALANCHE SLIDE AND RUMBLE,
AVALANCHE - HEAVY AVALANCHE HIT AND RUMBLE,
AVALANCHE - ROCKY AVALANCHE WITH BIG IMPACT,
AVALANCHE - AVALANCHE HIT AND DEBRIS FALL,
AVALANCHE - HEAVY AVALANCHE RUMBLE AND IMPACT,
Earthquake
EARTHQUAKE - SHORT EARTHQUAKE RUMBLE,
EARTHQUAKE - LOW EARTHQUAKE RUMBLE,
Fire
FIRE - ROARING BLAZE WITH CRACKLE,
Hail, Storm
HAIL, STORM - HAIL STORM, WEATHER,
Rockslide
ROCKSLIDE - DIRT AND ROCK LANDSLIDE,
ROCKSLIDE - LIGHT ROCKS TUMBLE, 01
ROCKSLIDE - LIGHT ROCKS TUMBLE, 02
Thunder
THUNDER - THUNDER CLAP AND RUMBLE, WEATHER, 01
THUNDER - THUNDER CLAP AND RUMBLE, WEATHER, 02
THUNDER - BIG THUNDER CRACK AND RUMBLE, WEATHER
THUNDER - DISTANT THUNDER ROLL, WEATHER, 01
THUNDER - DISTANT THUNDER ROLL, WEATHER, 02
Vine
Water, River
Water, Stream
WATER, STREAM - SMALL STREAM FLOWING,
Water, Lake
WATER, LAKE - WATER LAPPING WITH ECHO, WAVES,
WATER, LAKE - LIGHT WATER LAPPING, WAVES,
WATER, LAKE - SPLASHY WATER LAPPING, WAVES,
WATER, LAKE - LIGHT WATER SLOP, WAVES,
Water, Falls
WATER, FALLS - SMALL WATERFALL,
WATER, FALLS - LARGE, HEAVY WATERFALL,
WATER, FALLS - LARGE WATERFALL, CLOSE UP,
Water, Ocean
WATER, OCEAN - SINGLE LARGE WAVE CRASH, 01
WATER, OCEAN - SINGLE LARGE WAVE CRASH, 02
WATER, OCEAN - LARGE WAVES CRASHING,
Wind
WIND - YELLOW SKY WIND, WEATHER,
WIND - SIBERIAN WIND, WEATHER,
WIND - HOWLING BLIZZARD WIND, WEATHER,
WIND - HOWLING, WHISTLING WIND, WEATHER,
WIND - HURRICANE WIND, WEATHER,
WIND - WHISTLING HURRICANE WIND, WEATHER,
WIND - GYRO WIND DISSOLVE, WEATHER,
HB-04
Airplane, Cartoon
AIRPLANE, CARTOON - FUNNY PLANE: START AND TAKE OFF, SHORT,
AIRPLANE, CARTOON - FUNNY PLANE: START AND TAKE OFF, LONG,
AIRPLANE, CARTOON - FUNNY PLANE: PASS BY,
AIRPLANE, CARTOON - FUNNY PLANE: IN FLIGHT,
AIRPLANE, CARTOON - FUNNY PLANE: LOOPING,
AIRPLANE, CARTOON - FUNNY PLANE: LAND AND STOP,
AIRPLANE, CARTOON - FUNNY PLANE: SPUTTERS,
Airplane, Jet
AIRPLANE, JET - LARGE PASSENGER JET: IDLE,
AIRPLANE, JET - LARGE PASSENGER JET: TAXI,
AIRPLANE, JET - LARGE PASSENGER JET: APPROACH AND TAKE OFF,
AIRPLANE, JET - LARGE PASSENGER JET: TAKE OFF, 01
AIRPLANE, JET - LARGE PASSENGER JET: TAKE OFF, 02
AIRPLANE, JET - LARGE PASSENGER JET: TAKE OFF, REVERSED,
AIRPLANE, JET - FAST PASS BY, SHORT,
AIRPLANE, JET - FAST PASS BY, LONG,
AIRPLANE, JET - ATOM ANT JET BY,
AIRPLANE, JET - HEAVY JET RUMBLE,
AIRPLANE, JET - LARGE JET LANDING,
AIRPLANE, JET - LARGE PASSENGER JET: LAND AND PASS BY,
AIRPLANE, JET - LARGE PASSENGER JET: LAND WITH TIRE SCREECH,
AIRPLANE, JET - LAND AND STOP,
AIRPLANE, JET - INTERIOR: IN FLIGHT, 01
AIRPLANE, JET - INTERIOR: IN FLIGHT, 02
AIRPLANE, JET - F-84: PASS BY, 01
AIRPLANE, JET - F-84: PASS BY, 02
AIRPLANE, JET - F-84: PASS BY FAST, 01
AIRPLANE, JET - F-84: PASS BY FAST, 02
AIRPLANE, JET - F-84: PASS BY FAST, 03
AIRPLANE, JET - F-84: IN FLIGHT,
AIRPLANE, JET - F-84: PASS BY AND LAND, 01
AIRPLANE, JET - F-84: PASS BY AND LAND, 02
Airplane, Model
AIRPLANE, MODEL - MODEL AIRPLANE PASS BY,
AIRPLANE, MODEL - MODEL AIRPLANE IN FLIGHT,
Airplane, Prop
AIRPLANE, PROP - BLERIOT: START,
AIRPLANE, PROP - BLERIOT: IDLE,
AIRPLANE, PROP - BLERIOT: TAXI,
AIRPLANE, PROP - BLERIOT: TAKE OFF,
AIRPLANE, PROP - BLERIOT: IN FLIGHT,
AIRPLANE, PROP - BLERIOT: PASS BY, SHORT,
AIRPLANE, PROP - BLERIOT: PASS BY, LONG,
AIRPLANE, PROP - BLERIOT: IN AND LAND,
AIRPLANE, PROP - FOKKER: IN FLIGHT,
AIRPLANE, PROP - FOKKER: PASS BY,
AIRPLANE, PROP - START AND RAGGED IDLE,
AIRPLANE, PROP - JENNY: START AND IDLE,
AIRPLANE, PROP - OLD PROP PLANE IDLE,
AIRPLANE, PROP - LARGE PROP PLANE: IN FLIGHT,
AIRPLANE, PROP - LARGE PROP PLANE: APPROACH AND PASS BY,
AIRPLANE, PROP - THREE MOTOR PROP PLANE: PASS BY,
AIRPLANE, PROP - SHORT DIVE, 01
AIRPLANE, PROP - LONG DIVE, 01
AIRPLANE, PROP - SHORT DIVE, 02
AIRPLANE, PROP - LONG DIVE, 02
AIRPLANE, PROP - TWO PLANES DIVE,
Airplane, Squadron
AIRPLANE, SQUADRON - PROP SQUADRON IN FLIGHT,
Auto, Cartoon
AUTO, CARTOON - SCOOBY MYSTERY VAN: START AND PULL AWAY
AUTO, CARTOON - SCOOBY MYSTERY VAN: IDLE
AUTO, CARTOON - SCOOBY MYSTERY VAN: DRIVING SLOW
AUTO, CARTOON - SCOOBY MYSTERY VAN: DRIVING FAST
AUTO, CARTOON - SCOOBY MYSTERY VAN: PASS BY, 01
AUTO, CARTOON - SCOOBY MYSTERY VAN: PASS BY, 02
AUTO, CARTOON - SCOOBY MYSTERY VAN: IN AND STOP
Auto, Antique
AUTO, ANTIQUE - MODEL A: START AND PULL AWAY,
AUTO, ANTIQUE - MODEL T: IDLE,
AUTO, ANTIQUE - MODEL T: START AND RUN,
AUTO, ANTIQUE - MODEL T: DRIVING CONSTANT,
AUTO, ANTIQUE - MODEL T: IN, STOP, SHUT OFF,
Auto, Volkswagen
AUTO, VOLKSWAGEN - START AND PULL AWAY,
AUTO, VOLKSWAGEN - START, LONG IDLE AND PULL AWAY,
AUTO, VOLKSWAGEN - DRIVING STEADY,
AUTO, VOLKSWAGEN - PULL UP, STOP, SHUT OFF,
Auto, Door
Auto, Vintage
AUTO, VINTAGE - OLD AUTO: START, IDLE, PULL AWAY,
AUTO, VINTAGE - OLD AUTO: START AND PULL AWAY,
AUTO, VINTAGE - OLD AUTO: IDLE,
AUTO, VINTAGE - OLD AUTO: PASS BY,
Auto, Tire Squeal
AUTO, TIRE SQUEAL - MG: DIG OUT AND PULL AWAY,
AUTO, TIRE SQUEAL - COBRA: PEEL AWAY,
AUTO, TIRE SQUEAL - SQUEAL AND PULL AWAY, SHORT,
AUTO, TIRE SQUEAL - REV AND SCREECH AWAY, SHORT,
AUTO, TIRE SQUEAL - SQUEAL AROUND CORNER,
AUTO, TIRE SQUEAL - CORNER SQUEAL, SHORT,
AUTO, TIRE SQUEAL - CORNER SQUEAL, LONG,
Auto, Cartoon
AUTO, CARTOON - AUTO WHIZZ BY, ZOOM, 01
AUTO, CARTOON - AUTO WHIZZ BY, ZOOM, 02
AUTO, CARTOON - AUTO WHIZZ BY, ZOOM, 03
AUTO, CARTOON - BROWN'S ZOOM BY,
AUTO, CARTOON - AUTO WHIZZ BY, HIGH, ZOOM,
Auto, Skid
AUTO, SKID - AUTO APPROACH AND STOP WITH SQUEAL, TIRE,
AUTO, SKID - DAVE AND EDWARD TIRE SKID,
Auto, Race, Dragster
AUTO, RACE, DRAGSTER - HOT IDLE, 01
AUTO, RACE, DRAGSTER - HOT IDLE, 02
AUTO, RACE, DRAGSTER - DRAGSTER IDLE WITH REVS AND TAKE OFF,
AUTO, RACE, DRAGSTER - DRAGSTER PEEL OUT,
AUTO, RACE, DRAGSTER - DRAGSTER IDLE, REV AND TAKE OFF,
AUTO, RACE, DRAGSTER - DRAGSTER RACE BY,
Auto, Cartoon
AUTO, CARTOON - RACE CAR, STEADY DRIVING,
AUTO, CARTOON - CRASHY AUTO LANDING,
Auto, Gear
AUTO, GEARS - OLD AUTO GEAR GRIND, 01
AUTO, GEARS - OLD AUTO GEAR GRIND, 02
Auto, Brake
AUTO, BRAKE - SHORT BRAKE SQUEAKS,
Auto, Backfire
AUTO, BACKFIRE - OLD AUTO BACKFIRING,
Auto, Cartoon
AUTO, CARTOON - CRAZY AUTO SPUTTERS,
Boat, Outboard
BOAT, OUTBOARD - SMALL OUTBOARD: START AND PULL AWAY,
BOAT, OUTBOARD - 15 HP: STEADY DRIVING ON BOARD,
BOAT, OUTBOARD - LARGE: STEADY DRIVING ON BOARD,
BOAT, OUTBOARD - LARGE: PASS BY AND PULL AWAY,
Boat, Jet
BOAT, JET - START AND PULL AWAY,
BOAT, JET - STEADY DRIVING, SLOW,
BOAT, JET - MANEUVER ABOUT SLOWLY,
BOAT, JET - FAST STEADY DRIVING, ON BOARD,
BOAT, JET - APPROACH, STOP AND SHUT OFF,
Ship, Engine Room
SHIP, ENGINE ROOM - ENGINE ROOM HUM, MARINE,
Ship
SHIP - BOW OF SHIP CUTTING THROUGH WATER, MARINE,
Boat, Paddlewheel
BOAT, PADDLEWHEEL - LARGE PADDLEWHEEL TURNING,
Helicopter
HELICOPTER - HUGHES: INT: START, IDLE AND TAKE OFF,
HELICOPTER - HUGHES: EXT: APPROACH, HOVER, PULL AWAY,
HELICOPTER - HUGHES: EXT: START, TAKE OFF,
HELICOPTER - HUGHES: EXT: STRAFE BY,
HELICOPTER - HUGHES: EXT: PASS BY,
HELICOPTER - EXT: IDLE AND TAKE OFF, 01
HELICOPTER - EXT: IDLE AND TAKE OFF, 02
HELICOPTER - EXT: HOVER, LAND, IDLE, TAKE OFF,
HELICOPTER - COCKPIT SWITCH, 01
HELICOPTER - COCKPIT SWITCH, 02
HELICOPTER - COCKPIT SWITCH WITH WARNING BEEPER,
Helicopter, Cartoon
HELICOPTER, CARTOON - CRAZY COPTER START AND STOP,
HELICOPTER, CARTOON - CRAZY COPTER START,
HELICOPTER, CARTOON - CRAZY COPTER IDLE,
HELICOPTER, CARTOON - CRAZY COPTER IN FLIGHT,
HELICOPTER, CARTOON - ATOM ANT SQUEAKY COPTER, UNEVEN,
HELICOPTER, CARTOON - ATOM ANT SQUEAKY COPTER, STEADY,
HELICOPTER, CARTOON - FUNNY COPTER, STEADY, 01
HELICOPTER, CARTOON - FUNNY COPTER, STEADY, 02
HELICOPTER, CARTOON - FUNNY COPTER, PASS BY, FAST, 01
HELICOPTER, CARTOON - FUNNY COPTER, PASS BY, FAST, 02
HELICOPTER, CARTOON - FUNNY COPTER, PASS BY, SLOW, 01
HELICOPTER, CARTOON - FUNNY COPTER, PASS BY, SLOW, 02
Jeep
JEEP - START AND PULL AWAY, TRUCK,
JEEP - START WITH REVS AND LONG IDLE, TRUCK,
JEEP - START, BACK AWAY, BRAKE, PULL AWAY, TRUCK,
JEEP - MANEUVER AROUND AND PASS BY, TRUCK,
JEEP - APPROACH, STOP, IDLE, SHUT OFF, TRUCK,
Motorcycle, Cartoon
MOTORCYCLE, CARTOON - MOTOR MOUSE: START AND PEEL BY, AUTO,
MOTORCYCLE, CARTOON - MOTOR MOUSE: REVS, AUTO,
MOTORCYCLE, CARTOON - MOTOR MOUSE: REV UP AND PASS BY, AUTO,
MOTORCYCLE, CARTOON - MOTOR MOUSE: QUICK REV AND OUT, AUTO,
MOTORCYCLE, CARTOON - MOTOR MOUSE: PASS BY FAST, AUTO, 01
MOTORCYCLE, CARTOON - MOTOR MOUSE: PASS BY FAST, AUTO, 02
MOTORCYCLE, CARTOON - MOTOR MOUSE: DRIVE AND SQUEAL TO STOP, AUTO,
Motorcycle
MOTORCYCLE - START AND PULL AWAY,
MOTORCYCLE - DRIVING STEADY, ON BOARD,
MOTORCYCLE - REV UP AND RACE BY,
Train, Diesel
TRAIN, DIESEL - CONSTANT RUNNING WITH HORN,
TRAIN, DIESEL - PASS BY WITH HORN,
Train, Steam
TRAIN, STEAM - CHUGG BY, CLOSE UP WITH BELL,
TRAIN, STEAM - PULL OUT WITH WHISTLE,
TRAIN, STEAM - PULL OUT OF STATION WITH BELL,
TRAIN, STEAM - STEADY RUNNING, MEDIUM SPEED, 01
TRAIN, STEAM - STEADY RUNNING, MEDIUM SPEED, 02
TRAIN, STEAM - STEADY RUNNING, MEDIUM SPEED, 03
TRAIN, STEAM - STEADY RUNNING, FAST SPEED,
TRAIN, STEAM - STEADY RUNNING, FAST SPEED WITH WHISTLE,
Train, Rumble
TRAIN, RUMBLE - INT: TRAVELLING WITH WHEEL CLICKS,
TRAIN, RUMBLE - EXT: TRAVELLING BY WITH WHEEL CLICKS,
Train, Whistle
TRAIN, WHISTLE - STEAM WHISTLE,
Train, Cartoon
TRAIN, CARTOON - CRASHY TRAIN STOP, 01
TRAIN, CARTOON - CRASHY TRAIN STOP, 02
TRAIN, CARTOON - DRUM CHUGGING, FAST,
TRAIN, CARTOON - TOY TRAIN WITH WHISTLE,
Camera, Movie
CAMERA, MOVIE - 8MM: WIND UP AND RUN,
Cement Mixer
CEMENT MIXER - RUNNING, CONSTRUCTION,
Computer, Cartoon
COMPUTER, CARTOON - TOY COMPUTER RUNNING, SHORT,
COMPUTER, CARTOON - TOY COMPUTER RUNNING, LONG,
COMPUTER, CARTOON - CARTOON COMPUTER RUNNING,
Grinder
Impact Wrench
IMPACT WRENCH - THREE SHORT BURSTS, CONSTRUCTION,
IMPACT WRENCH - SEVERAL BURSTS, CONSTRUCTION,
Jack Hammer
JACK HAMMER - LOUD HAMMERING, CONSTRUCTION,
Machine, Cartoon
MACHINE, CARTOON - SMURF MACHINE,
MACHINE, CARTOON - FUNNY MECHANICAL MACHINE,
MACHINE, CARTOON - FUNNY RHYTHMIC MECHANICAL MACHINE,
MACHINE, CARTOON - MARTIAN MACHINE, SHORT,
MACHINE, CARTOON - HAPPY MACHINE,
MACHINE, CARTOON - SAD MACHINE,
MACHINE, CARTOON - PEDALING WOOD MACHINE,
MACHINE, CARTOON - RATTLY WOOD MACHINE,
MACHINE, CARTOON - FUNNY LITTLE MACHINE,
MACHINE, CARTOON - LITTLE MACHINE RUNNING FAST,
MACHINE, CARTOON - LITTLE RHYTHMIC METAL MACHINE,
Motor, Cartoon
MOTOR, CARTOON - JETSONS LIP MOTOR,
MOTOR, CARTOON - PINGY MOTOR, VARIOUS SPEEDS,
MOTOR, CARTOON - DULL CHUGGING MOTOR: START AND STOP, 01
MOTOR, CARTOON - DULL CHUGGING MOTOR: START AND STOP, 02
MOTOR, CARTOON - DULL CHUGGING MOTOR: START AND STOP, 03
MOTOR, CARTOON - DULL CHUGGING MOTOR: START AND STOP, 04
MOTOR, CARTOON - DULL CHUGGING MOTOR: CONSTANT,
MOTOR, CARTOON - WHINY MOTOR: START AND STOP, 01
MOTOR, CARTOON - WHINY MOTOR: START AND STOP, 02
MOTOR, CARTOON - WHINY MOTOR: RUN AT VARIOUS SPEEDS, STOP,
MOTOR, CARTOON - GENERATOR START UP,
MOTOR, CARTOON - SQUEAKY MOTOR,
MOTOR, CARTOON - SPUTTER MOTOR,
MOTOR, CARTOON - SQUEAKY SPUTTER MOTOR,
MOTOR, CARTOON - LITTLE MECHANICAL MOTOR RUNNING FAST,
MOTOR, CARTOON - TINY ASSEMBLY LINE, 01
MOTOR, CARTOON - TINY ASSEMBLY LINE, 02
MOTOR, CARTOON - WIND UP RATCHET MOTOR,
MOTOR, CARTOON - LOW HUMMING MOTOR,
Motor, Generator
MOTOR, GENERATOR - GENERATOR MOTOR RUNNING STEADY,
MOTOR, GENERATOR - HEAVY GENERATOR START UP AND RUN,
MOTOR, GENERATOR - DAM TURBINE MOTOR,
MOTOR, GENERATOR - POWER PLANT MOTOR BACKGROUND,
Pile Driver, Cartoon
PILE DRIVER, CARTOON - LARGE PILE DRIVER POUNDING FAST,
Press, Cartoon
PRESS, CARTOON - LARGE WOODEN PRINTING PRESS,
PRESS, CARTOON - HAND PRINTING PRESS, SLOW,
PRESS, CARTOON - HAND PRINTING PRESS, FAST,
Projector Film
PROJECTOR, FILM - 35MM PROJECTOR: RUNNING STEADY, MOVIE,
PROJECTOR, FILM - NOISY PROJECTOR: RUNNING STEADY, MOVIE,
PROJECTOR, FILM - OLD PROJECTOR: RUNNING STEADY, MOVIE,
PROJECTOR, FILM - MOVIOLA: START, RUN, STOP, MOVIE,
Pulley
Pump, Hand
PUMP, HAND - OLD HAND WATER PUMP,
PUMP, HAND - OLD HAND GAS PUMP,
Pump, Cartoon
PUMP, CARTOON - WATER PUMP RUN,
PUMP, CARTOON - HEAVY WATER PUMP RUN,
Robot, Motor
ROBOT, MOTOR - MECHANICAL JOINTS,
ROBOT, MOTOR - MECHANICAL ARM, 01
ROBOT, MOTOR - MECHANICAL ARM, 02
Roller Coaster
ROLLER COASTER - STEADY RUNNING,
Submarine, Motor
SUBMARINE, MOTOR - INTERIOR: SUBMARINE MOTOR,
Teletype
TELETYPE - SENDING MESSAGE ON OLD TELETYPE,
TELETYPE - TELETYPE RECEIVING MESSAGE, OFFICE, PRINTER,
Washing Mach, Cartoon
WASHING MACH, CARTOON - PAT'S WASHING MACHINE,
Winch
Windmill
WINDMILL - OLD WOODEN WINDMILL TURNING,
WINDMILL - OLD SQUEAKY WINDMILL TURNING,
Crowd, Cartoon
CROWD, CARTOON - SMALL ANGRY MALE CROWD,
CROWD, CARTOON - MEDIUM DISGRUNTLED CROWD,
CROWD, CARTOON - CARTOON NATIVE WALLA,
CROWD, CARTOON - GHOST PARTY CROWD,
Crowd, Panic
CROWD, PANIC - PANIC CROWD SCREAMS AND YELLS, SHORT, 01
CROWD, PANIC - PANIC CROWD SCREAMS AND YELLS, SHORT, 02
CROWD, PANIC - EXCITED, PANICKY CROWD,
CROWD, PANIC - TEEN PANIC CROWD,
Chew, Cartoon
CHEW, CARTOON - CHEWING CELLOPHANE, HUMAN, EATING,
Footsteps, Wood
FOOTSTEPS, WOOD - FOOTSTEPS ON WOOD,
Grunt, Cartoon
GRUNT, CARTOON - SHORT GRUNT, HUMAN,
GRUNT, CARTOON - STRAINING GRUNT, HUMAN, 01
GRUNT, CARTOON - STRAINING GRUNT, HUMAN, 02
Gulp, Cartoon
GULP, CARTOON - BIG GULP, HUMAN,
Kiss, Cartoon
KISS, CARTOON - BIG KISS, HUMAN, 01
KISS, CARTOON - BIG KISS, HUMAN, 02
KISS, CARTOON - BIG KISS, HUMAN, 03
KISS, CARTOON - BIG KISS, HUMAN, 04
KISS, CARTOON - BIG KISS, HUMAN, 05
KISS, CARTOON - BIG KISS, HUMAN, 06
KISS, CARTOON - BIG KISS, HUMAN, 07
Laugh, Cartoon
LAUGH, CARTOON - SHORT CRAZY LAUGH, HUMAN,
Scream
SCREAM - FEMALE: SHORT SCREAM, HUMAN, HORROR
SCREAM - FEMALE: TWO SHORT SCREAMS, HUMAN, HORROR
SCREAM - MALE: SHORT HORROR SCREAM, HUMAN 01
SCREAM - MALE: SHORT HORROR SCREAM, HUMAN 02
SCREAM - MALE: HORROR SCREAM, HUMAN
SCREAM - MALE: TERROR SCREAM, HUMAN, HORROR 01
SCREAM - MALE: TERROR SCREAM, HUMAN, HORROR 02
Slurp, Cartoon
SLURP, CARTOON - BIG SINGLE SLURP, HUMAN,