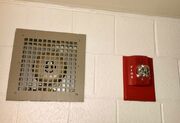 This sound effect can be found on The Premiere Edition Volume 1, which was made by Hollywood Edge. It is a recording of a Simplex Time Recorder 4090-2 6" 120 VAC bell ringing continuously and loudly.
Sound Effect Description
School Bell; Long Ring, Interior, Close Perspective.
Clean, Full Length and Unedited Link to the Sound Effect
Used In
TV Shows
Adventures of T-Rex
Arthur (heard mostly in post-2005 episodes)
Brum (Heard once in "Brum and the Kitten Rescue" and "Brum and the Heavy Safe;" used as a fire alarm and a dynamite clock's bell.)
Captain Planet (Heard once in "'Teers in the Hood.") (used as a fire alarm)
Inside-Out Boy
Pinky and the Brain (Heard often in "Dangerous Brains.")
Pinky Dinky Doo (Heard in a high pitch in "Where are My Shoes?".)
TV Specials
Movies
Shorts
Commercials
USA:
Ad Council - Bullying Prevention - Lockers (2012)
Cheetos Twisted: School (2003)
Cookie Crisp: School (1999)
Cottonelle Toilet Paper (2017)
Danimals XL (2005)
Disney's One Saturday Morning (1998) (Used as an alarm clock.)
Lunchables: Feed Your Great Ideas (2012)
Nick.Com (2000)
Porsche - 911 Carrerea (2006)
Values.com - Just Say Hi! (2000)
Radio Spots
USA:
Best Deals Online - 20% Off Offer (2017)
Video Games
PC:
The New Way Things Work (1998)
Promos
Music Videos
The Fray - Over My Head (Cable Car) (2007)
Trailers
Percy Jackson and the Olympians: The Lightning Thief (2010) (Trailers)
Online Videos
BrainPop (Heard once in "Winter Holidays".)
Anime
Image Gallery



Audio Samples
WARNING: LOUD! Turn down your volume!
Ad blocker interference detected!
Wikia is a free-to-use site that makes money from advertising. We have a modified experience for viewers using ad blockers

Wikia is not accessible if you've made further modifications. Remove the custom ad blocker rule(s) and the page will load as expected.