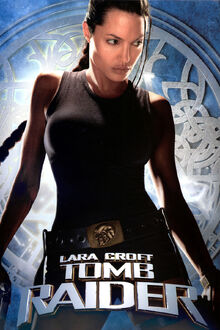 Lara Croft: Tomb Raider is a movie produced by Mutual Film Company and distributed by Paramount Pictures. It was released in 2001.
Storyline
This live action feature is inspired by the most successful interactive video-game character in history -- Lara Croft. Beautiful and brainy, Lara (Angelina Jolie) is the heroine of Eidos Interactive's phenomenally successful "Tomb Raider" game series. It is one woman's fearless quest criss-crossing the globe, in an amazing attempt to save the world.
Sound Effects Used
Sound Ideas, ALARM, CAR - CAR ALARM GOING OFF, AUTO
Hollywoodedge, Machine Gun Silence PE1010701
See Also
Lara Croft Tomb Raider: The Cradle of Life (2003)
Ad blocker interference detected!
Wikia is a free-to-use site that makes money from advertising. We have a modified experience for viewers using ad blockers

Wikia is not accessible if you've made further modifications. Remove the custom ad blocker rule(s) and the page will load as expected.