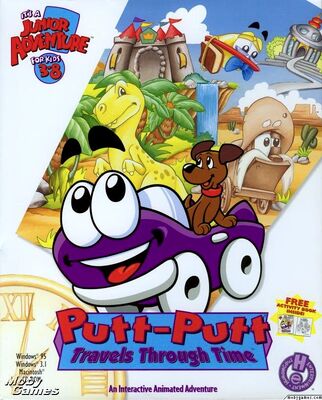 Putt-Putt is a video game series about a purple convertible car created by Humongous Entertainment.
Sound Effects Used
Sound Ideas, TRAIN, STEAM - WHISTLE, SINGLE, CLOSE UP 01 (Heard once in "Putt-Putt: Pep's Birthday Surprise.")
Sound Ideas, CRASH, AUTO - SKID AND LARGE AUTO CRASH, CARTOON
Sound Ideas, BIRDS, JUNGLE - AFTERNOON JUNGLE BIRDS CALLING, ANIMAL, (Heard once in "Putt-Putt Saves the Zoo.")
Sound Ideas, AVALANCHE - HEAVY AVALANCHE RUMBLE AND IMPACT, (Heard once in "Putt-Putt Saves the Zoo.)
Sound Ideas, SMASH, GLASS - SMALL GLASS CRASH,
Sound Ideas, AUTO, SKID - DAVE AND EDWARD TIRE SKID,
Hollywoodedge, Funny Sm Puppy Plays CRT012003
Hollywoodedge, Short Metal Crash CRT033102 (Heard in "Putt-Putt Goes to the Moon.")
Hollywoodedge, Metal Junk Crash CRT033509
Hollywoodedge, Fishing Reel Cast Wp CRT037803
Sound Ideas, SPLAT, CARTOON - BORK PIE HIT, (Heard three times in Putt-Putt Saves The Zoo)
Image Gallery
Audio Samples
External links
Ad blocker interference detected!
Wikia is a free-to-use site that makes money from advertising. We have a modified experience for viewers using ad blockers

Wikia is not accessible if you've made further modifications. Remove the custom ad blocker rule(s) and the page will load as expected.