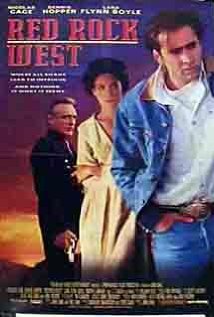 Storyline
When unemployed ex-marine Michael Williams (Nicolas Cage) stumbles into a bar in Red Rock, Wyo., the owner, Wayne (J.T. Walsh), mistakes him for a hired killer and offers him $10,000 to kill his wife, Suzanne (Lara Flynn Boyle). Michael plays along, taking half the money up front, then tells Suzanne what her husband is planning. She seduces Michael and proposes that he kill her husband instead. While he weighs his options, the real killer (Dennis Hopper) turns up looking for his money.
Also See
Red Rock West (1993) (Trailers)
Movie Trailer
Sound Effects Used
Sound Ideas, TRAIN, DIESEL - PASSES BY, HORN BLASTS - Horns only no wheels
Sound Ideas, AUTO, SKID - BRAKE SKID, TIRE 01 - Heard in a Low Pitch
Hollywoodedge, 1964 Cadillac Very Sl PE073001
Hollywoodedge, Lincoln Town Car In Sk PE073601
Image Gallery
Audio Samples
External links
Ad blocker interference detected!
Wikia is a free-to-use site that makes money from advertising. We have a modified experience for viewers using ad blockers

Wikia is not accessible if you've made further modifications. Remove the custom ad blocker rule(s) and the page will load as expected.