Storyline
Road Rovers is an animated action/adventure series starring the most buffed-up and powerful howling hounds ever to walk the planet. The series features fur-rasing adventures of man's best friends (actually, the pets of various Heads of State from around the globe)--courageous canines who doggedly defend and protect all that's good in the galaxy.
TV Show Intro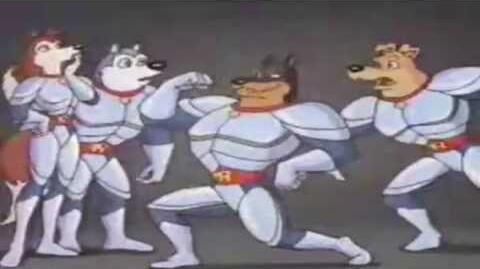 Sound Effects Used
Sound Ideas, TRAIN, DIESEL - PASSES BY, HORN BLASTS (Heard once in "Lets Hit The Road.") - Horn Doppler Only No Wheels
Sound Ideas, TRUCK, DIESEL - COME IN, STOP, IDLE, DRIVE AWAY (Heard once in "Hunter's Heroes.")
Hollywoodedge, Train Long From Dista PE064401 (Heard once in "Reigning Cats & Dogs.") - Wheels Only No Train Horn.
Hollywoodedge, Train Exterior Persp PE064701 (Heard once in "Dawn of The Groomer.")
Hollywoodedge, 1964 Cadillac Very Sl PE073001 (Heard once in "Let Sleeping Dogs Lie.")
Hollywoodedge, Gto Mix Revs Peel Out PE074101 (Heard at the end of the show's intro.)
Hollywoodedge, Explosion Large Shar PE097801
Hollywoodedge, Cats Two Angry YowlsD PE022601
Hollywoodedge, Sheep Baa Medium Pers PE027001
Hollywoodedge, Crash Metal Shatter PE110201
Hollywoodedge, Crash Train Car Mix PE111601 (Still a few bugs in the system)
Image Gallery
Audio Samples
External links
Ad blocker interference detected!
Wikia is a free-to-use site that makes money from advertising. We have a modified experience for viewers using ad blockers

Wikia is not accessible if you've made further modifications. Remove the custom ad blocker rule(s) and the page will load as expected.