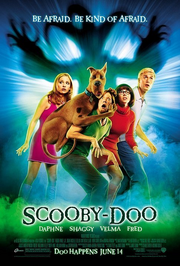 Storyline
The Mystery Inc. gang have gone their separate ways and have been apart for two years, until they each receive an invitation to Spooky Island. Now knowing that the others have also been invited, they show up and discover an amusement park that affects young visitors in very strange ways. Fred, Daphne, Velma, Shaggy and Scooby soon realize that they cannot solve this mystery without help from each other.
Also See
Movie Trailer
Sound Effects Used
Sound Ideas, TEETH, CARTOON - SCOOBY'S TEETH CHATTER, LONG,
Sound Ideas, POP, CARTOON - SQUISH POP,
Sound Ideas, STRETCH, CARTOON - SHORT RUBBER STRETCHING SQUEAK 03
Sound Ideas, SKID, CARTOON - BROKEN SKID,
Sound Ideas, BALLOON - BALLOON AIR SQUEAK, 05
Sound Ideas, BITE, CARTOON - BIG CHOMP,
Sound Ideas, FART - BIG EXPULSION, HUMAN
Sound Ideas, STRETCH, CARTOON - RUBBER STRETCH, LONG,
Sound Ideas, HEAD SHAKE, CARTOON - XYLO HEAD SHAKE,
Sound Ideas, RICOCHET - WHINE TUBE RICCO,
Hollywoodedge, Lrg Nasty Belch CRT2054735
Hollywoodedge, Belch 7 Long Disgusti PE138601
Hollywoodedge, Belch 2 Short Close Pe PE138101
Hollywoodedge, Fart 1 Medium Fart Clo PE138901
Hollywoodedge, Medium Crowd AdultsY PE142901
Hollywoodedge, Catfssst Yowl Hiss CRT012603
Hollywoodedge, Bird Hawk Single Scre PE020801
Hollywoodedge, Bird Rooster Two Crow PE021501
Hollywoodedge, Cats Two Angry YowlsD PE022601
Hollywoodedge, Belch 8 Long Disgusti PE138701
Hollywoodedge, Crowd Reaction Shock PE142501
Hollywoodedge, Medium Exterior Crow PE140401
Hollywoodedge, Medium Exterior Crow PE140501
Hollywoodedge, Medium Exterior Crow PE141401
Hollywoodedge, Lightning 08 CloseG SIG012601
AS TIME GOES BY (1999 WARNER BROS. PICTURES JINGLE)
SHAGGY SAYS SCOOBY-DOO WHERE ARE YOU!
Image Gallery
Audio Samples
External Links