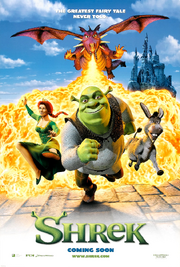 Storyline
When a green ogre named Shrek discovers his swamp has been 'swamped' with all sorts of fairytale creatures by the scheming Lord Farquaad, Shrek sets out with a very loud donkey by his side to 'persuade' Farquaad, to give Shrek his swamp back. Instead, a deal is made. Farquaad, who wants to become the King, sends Shrek to rescue Princess Fiona, who is awaiting her true love in a tower guarded by a fire-breathing dragon. But once they head back with Fiona, it starts to become apparent that not only does Shrek, an ugly ogre, begin to fall in love with the lovely princess, but Fiona is also hiding a huge street.
Also See
Movie Trailer
Sound Effects Used
Sound Ideas, HORSE - EXTERIOR: SNORTING, ANIMAL 01
Sound Ideas, PIG - SNORTING, ANIMAL
Sound Ideas, ELECTRICITY - ARC ZAPS,
Sound Ideas, ZIP, CARTOON - CRAZY UP, 01
Hollywoodedge, Peacock Call ASingle AT075801
Hollywoodedge, Single Frog Croak Cl CRT013001 (Heard once in a low pitch.)
Hollywoodedge, Bullet Ricco Whiz By CRT040201
Hollywoodedge, Explo Whoosh CRT040202
Hollywoodedge, Bird Hawk Single Scre PE020901
Hollywoodedge, Horses Several Whinn PE025201
Hollywoodedge, Sheep Baa Medium Pers PE027001
Hollywoodedge, Medium Exterior Crow PE141401
Hollywoodedge, Crowd Reaction Shock PE142501
Hollywoodedge, Highpitched Metal Sq PE188601
Hollywoodedge, Stinger Camera Shut SDT012501
Hollywoodedge, Lightning 08 CloseG SIG012601
Hollywoodedge, Fart 2 Short Fart Clos PE139001
Image Gallery
Audio Samples
External Links
Ad blocker interference detected!
Wikia is a free-to-use site that makes money from advertising. We have a modified experience for viewers using ad blockers

Wikia is not accessible if you've made further modifications. Remove the custom ad blocker rule(s) and the page will load as expected.