This sound effect can be found on The General Series 6000 Sound Effects Library, which was made by Sound Ideas.  
Info
First recorded: 1992-1993
Creator: N/A
Owner: Sound Ideas (1993-present)
Origin: Canada
Year debut: 1993
First heard: Marsupilami
Area used: Worldwide
Trivia
This happens to be one of the most overused woman screaming sounds, used for many female screams, from an offscreen scream to an Angry Beaver accidentally getting naked. There is a 99.9% chance you have heard this sound effect before.
Many users on this wikia are scared or irritated by this sound effect.
MikiDex
The most disturbing sound from the General 6000 library, next to the female baby cry. I always hate hearing this since after watching the Greek Mythology for Students episode about Medusa and the Disney film Hercules one school day, it drove me insane after hearing it SO MANY TIMES. But of course this sound is also used in animation since 1993, which means it's a very common and overused SFX that I can't escape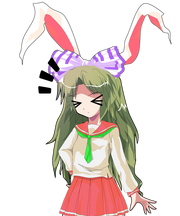 from when watching anything of the post 1993 era of animation. The worst examples of this sound being used in animation constantly was in Perseus and Medusa of Greek Mythology for Students since they use the sound more than 20 or 30 calculated times, ALL IN ONE SCENE!! COME ON!!! ARE YOU SERIOUSLY DOING THIS JUST TO ANNOY ME WITH THIS AWFUL SOUND ON PURPOSE?!?!?! YOU MONSTERS!!!
This sound effect was first used in Marsupilami back in 1993. Then other studios took this dreadful sound for use in media starting in about 1995. It even effected anime to use it as well, (Kill Me Baby and Gabriel Dropout) and that's how the SFX became a common use for female horror screams.
DO NOT, I REPEAT, DO NOT TAKE THE RISK OF HEARING THIS SATANIC AND NIGHTMARISH FEMALE SCREAM! THERE IS A GOOD CHANCE IT IS IN GOOD MEDIA LIKE HERCULES AND SPONGEBOB, IF YOU PICK MEDIA THAT HAS THIS SOUND AND YOU LIKE IT, SKIP THE SCENE THE SCREAM IS HEARD AND OVERALL, AVOID IT LIKE THE PLAGUE OR IT WILL HAUNT YOU, HIGHLY DISTURB YOU, AND GET STUCK IN YOUR HEAD FOR A FEW HOURS! MY GOD, IT'S DISTURBING! D:< 
Clean, Full Length and Unedited Link to the Sound Effect
AudioMicro (WARNING: THIS HELLISH MONSTROSITY MAY HAUNT YOU, HIGHLY DISTURB YOU AND/OR GET STUCK IN YOUR HEAD FOR A FEW HOURS! CONTINUE AT YOUR OWN RISK!!)
Used In
TV Shows
3 Amigonauts
Acábatelo
Action League Now! (Heard in a high pitch in "Rock-A-Big Baby" and "Incident at Chlorine Lake.")
The Adventures of Jimmy Neutron: Boy Genius (Heard once in "Grumpy Young Men.") - (Goddard Scream Only.)
All Grown Up! (Heard once in "The Curse of Reptar.")
Are You Afraid of the Dark?
Bachke Rehnaa Zara Sambhalna (Heard once in the intro.) (Indian version of game show "Russian Roulette.")
Blood Drive (Heard once in "A Gentleman's Agreement".)
Brickleberry (Heard once in "Squabbits".)
Chowder (Heard once in a high pitch In "The Wrong Costumer" and a normal pitch In "The Belgin Waffle Slobber-Barker.")
Clarence (Heard once in "Belson's Sleepover.")
Courage The Cowardly Dog (Heard once in "Shirley the Medium")
Captain Biceps
Cow and Chicken (Heard once in "Who's Afraid of the Dark?.")
Disney's House of Mouse (Heard once in a high pitch in "House of Scrooge.")
Donkey Kong Country (Heard once in "Hunka-Hunka Burning Bluster.")
Doug (Heard once in "Doug's New School.")
Family Guy (Heard once in "Inside Family Guy.")
Harvey Birdman: Attorney At Law (Heard once in "Blackwatch Plaid.")
Hey Arnold! (Heard once in "The List" and "Arnold's Halloween.")
Hi Hi Puffy AmiYumi (Heard once in "A Grave Mistake.")
Horrid Henry (Heard once in "Horrid Henry is Too Cool for School.")
Invader Zim (Heard twice in "Dark Harvest" and once in "Parent Teacher Night", and "Walk of Doom".)
Johnny Test (Heard twice in "Johnny's Pink Plague" and "Johnny Dukey Doo;" once in "Coming to a Johnny Near You" and "Johnny's Left Foot.")
Larva (Heard once in a high pitch)
League Of Super Evil
Late Night Black & White (Heard once in the intro.)
Lucky Fred
Mad TV (Heard once in a high pitch on "South Parknuts" and normal in "Raging Rudolph II: The Reinfather.")
Mighty Magiswords (Heard once in "Mushroom Menace")
Monkey Dust
Motorway Patrol
Mucha Lucha (Heard once in a high pitch in "Flea's Fighting Fish".) - (The Flea Scream Only.)
Muppet Babies (2018 TV Series) (Heard once in a high pitch in "The Teeth Chattering Tale Of The Haunted Pancakes.")
My Gym Partner's a Monkey (Heard once in "Inoculation Day.") - (Principal Pixie Frog Scream Only.)
Nexo Knights (Possibly heard in "The Gray Knight".)
The Nutshack
Oh Yeah! Cartoons (Freddy Seymour's Rhinoceros scream in "Freddy Seymour's Amazing Life.")
Ozzy & Drix (Heard once in "The Dream Factory.")
The Powerpuff Girls (2016 TV Series) (Heard once in Various pitches in "Secret Swapper of Doom.")
Randy Cunningham: 9th Grade Ninja
Regular Show (Terror Tales of The Park 2011-Present)
Rex the Runt (Heard once in "The Adventures on the Telly Part 1" and "Hole in the Garden.")
The Simple Life
South Park (Heard once in the Halloween intro.)
SpongeBob SquarePants (Heard once in "Hooky" in a high pitch; "F.U.N.," "Suds," "Enemy In-Law," "Ghost Host," "That's No Lady," "Life Insurance," "Code Yellow," "Drive Happy," and "Bunny Hunt" in a normal pitch. Heard twice in "Once Bitten" in a double pitch.)
Squirrel Boy (Heard once in "Islands in the Street.")
Star vs. the Forces of Evil (Heard once in "Match Maker.")
Steven Universe (Heard once in "Keeping it Together")
The Stuffed Animal Show (Heard in "Spooky Blue," "It's The Great Pumpkin," "Blue & Hero," and "I Was A Childhood Zombie.")
The Suite Life of Zack and Cody (Heard once in the outtakes.)
Timon & Pumbaa (Heard once in "Big Top Breakfast" in a high pitch.)
Totally Spies! (Heard in a high pitch.)
Wipeout (Heard in some Foreign dubbed episodes).
Wishfart
World of Quest
Yin Yang Yo (Heard once in "Yin Yang You.")
Movies
Shorts
Dr. Tran (2008-2010) (Shorts)
Goodnight Mr. Foot (2012) (Shorts) (Used for a spider screaming.)
Mantelope: Half Man - Half Antelope (2001)
No Touching (2017) (Heard once)
Presto (2008)
Yogi Bear: When Animals Nap (1999) (Shorts)
Commercials
Canada:
Teletoon Detour - Family Guy Joins the Detour]
Ireland:
USA:
Burger King - Scary iDog (2008)
Corona Halloween Ad
Denny's Super Bowl Ads (2010)
Feldco - Old Scary Windows on Halloween (2012-2013)
Hot Bob As Seen on TV Commercial
JCPenney: Back to School - Zombies (2007)
Pop Tarts Presents: Pop The Vote (2016)
Six Flags Fright Fest (2015)
Wendy's - Baconator Mania (2007) (Heard once only in beginning.)
Video Games
Area 51: Site 4 (1998) (Video Game)
Beetle Adventure Racing (Heard once in a high pitch in "Wicked Woods.")
Chase: Hollywood Stunt Driver (2002) (Video Game)
Die Hard Trilogy 2: Viva Las Vegas (2000) (Video Game)
GoGo Ball (2008) (Arcade Game) (Used at the start of a level.)
The Grid (2000) (Arcade Game)
Infamous (Video Game) (Heard once near the beginning.)
Lego Jurassic World (2015) (Heard twice in the cutscne and walkthorugh of "The Lost World: Jurassic Park" segment when people are screaming in the background in San Diego.)
Little Inferno (2012)
LittleBigPlanet (2007)
LittleBigPlanet 2 (2011)
LittleBigPlanet 3 (2014)
Resident Evil 6 (2012) (Video Game)
SimCity Societies (2007) (Video Game)
SimCity 3000 Unlimited
Soul Sacrifice (2013) (Video Game)
State of Decay 2 (2018) (Video Game)
Super Mario Fusion: Revival (Fangame)
Tony Hawk's Pro Skater 4 (2002)
Tony Hawk's Underground 2 (2004)
Until Dawn (2015)
Winterrowd.com - Hit the Dot (When the Regan McNeil photo pops up at the end, this scream follows an unindentified scream sound effect.)
Logos
Acclaim Cheltenham (Crazy Taxi) (2001)
Promos
Reed Brunson Stuffed Animal Halloween Promo (2007)
MTV Netherlands - The Tom Green Show Promo (2001) (It can be heard as the word AAAAAHHH!!! flashes at around 0:10.)
SpongeBob SquarePants Halloween Premieres (2011)
Music Videos
Beyonce Music Videos (Heard on the music video "Sweet Dreams" before the song starts after Beyonce ascends to her nightmare, plus combined with a recognizable, but unknown stock scream.)
Eminem featuring Dido - Stan (2000) (Dido screams Only)
Example - Won't Go Quietly (2010) (Heard at the end of video.)
Green Day - Redundant (1998) (Heard at the end of video.)
Michael Jackson - Dangerous (Heard at the beginning.)
Bumpers
Cartoon Network: Late Night Black & White Bumpers
Disney Channel - Makeover (2002) (Bumper) (Heard in a high pitch.)
Nickelodeon - Angry Beavers - Underpants (Bumper)
Trailers
Halloween: The Curse of Michael Myers (1995) (Trailers)
Planet 51 (2009) (Trailers)
Pride and Prejudice and Zombies (2016) (Trailers)
Scary Movie 5 (2013) (Trailers)
Smallfoot (2018) (Trailers) - (The final trailer only can be heard when a pilot's scream is used.)
True Lies (1994) (Trailers)
Vertigo (1958) (Trailers) (Heard once in the 1996 restoration trailer.)
TV Spots
How to Train Your Dragon (2010) (TV Spots)
Scary Movie 5 (2013) (TV Spots)
Other Media
Plotagon (for Mac/PC)
WRVQ
Web Originals
The Annoying Orange (Heard on the Vine compilation and at the beginning of "Tech Support".)
Giggles the Clown (Heard on "Middle School Bites.")
Just for Laughs Gags
Just Kidding! Pranks
YouTube Videos
Donkey Kong: The BLU Heist (2010) (Shorts)
Funhouse Ride CGI (Not RCT3)
McCain To Teletubbies: Get Off My Lawn!!!
Megababies Outtakes (heard at 0:22)
R RATED HARRY POTTER (2015) (Heard once when red player first got stabbed by green player.)
Sailor Moon meets My Little Pony (Heard once in high pitch on part 2)
SM64 Bloopers: MarioNite (A Fortnite Video)
Teletubbies Get off My Laaawn!!!
Toy Story (1995) Alternate Ending (Seth Irskens)
Mobile Apps
iMovie (Apple App)
Zombie Cafe
Radio Ads
Scream Hollow Smithville/Austin
Radio Programs
Elvis Duran and the Morning Show
Anime
Educational Media
Image Gallery
Sound Ideas, HUMAN, SCREAM - SCREAM: FEMALE, HORROR 03/Image Gallery
Audio Samples
(Warning: This is your final warning! You will have nightmares for weeks, months, or years! CONTINUE AT YOUR OWN RISK!)