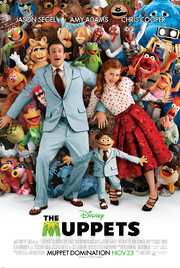 Storyline
What Two Muppet fans learn that Tex Richman wants to drill under the Muppet Theater for oil, Gary, Mary and Walter set out to find the Muppets who have been split up for years so that they can put on one last show and save the Muppet Theater. Kermit the Frog now lives in his own mansion depressed in Hollywood, 'The Great Gonzo' is a high class plumber at Gonzo's Royal Flush, Fozzie Bear performs with a tribute band called The Moopets, Miss Piggy is the plus-size fashion editor at Vogue Paris, and Animal is at a celebrity anger management rehab center in Santa Barbara.
Also See
Movie Trailer
Sound Effects Used
Hollywoodedge, Doppler Car Horn By Ap PE077401
Hollywoodedge, Fart 4 Very Short High PE139201
Hollywoodedge, School Bell Long Ring PE193401
Hollywoodedge, Medium Exterior Crow PE140401
Hollywoodedge, Medium Exterior Crow PE140501
Hollywoodedge, Medium Exterior Crow PE141401
Hollywoodedge, Crowd Reaction Shock PE142501 (Heard once in "The Credits.")
Image Gallery
Audio Samples
External Links
Ad blocker interference detected!
Wikia is a free-to-use site that makes money from advertising. We have a modified experience for viewers using ad blockers

Wikia is not accessible if you've made further modifications. Remove the custom ad blocker rule(s) and the page will load as expected.