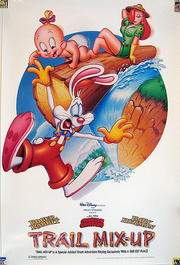 Trail Mix-Up is a Roger Rabbit short that was released in theaters, before A Far Off Place on March 12, 1993.
Storyline
Sound Effects Used
Sound Ideas, CARTOON, WHISTLE - FALL WHISTLE, LONG
Sound Ideas, PLINK, CARTOON - SOUR PLINK,
Sound Ideas, RICOCHET - CARTOON RICCO, 01
Sound Ideas, RUN, CARTOON - FAST RUN, LONG,
Sound Ideas, THUMP, CARTOON - TUBE THUNK, 01
Sound Ideas, WHISTLE, STEAM - FACTORY WHISTLE, LARGE FACTORY
Hollywoodedge, Boing Wood Twang CRT016301
Hollywoodedge, High Pitched Whistl CRT018103
Hollywoodedge, Big Inhale Balloon CRT019901
Hollywoodedge, Big Metal Clangthud CRT031903
Hollywoodedge, Low Pitched Squeak CRT049301
Hollywoodedge, High Pitched Squeak CRT049302
Hollywoodedge, Quick Whistle Zip By CRT057505
Hollywoodedge, Ascending Whistles CRT057901
WHEN YOU WISH UPON A STAR (1985 WALT DISNEY PICTURES JINGLE)
Image Gallery
Audio Samples
External links
Ad blocker interference detected!
Wikia is a free-to-use site that makes money from advertising. We have a modified experience for viewers using ad blockers

Wikia is not accessible if you've made further modifications. Remove the custom ad blocker rule(s) and the page will load as expected.