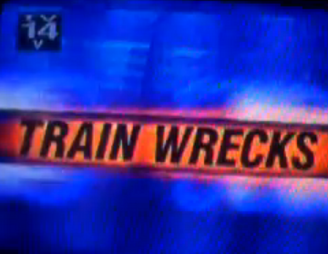 Storyline
Edit
Sheriff john bunnell tells the audience about the dangers of train accidents from Locomotives hitting road vehicles from train collisions and derailments and even a train kills a person.
Sound Effects Used
Edit
Sound Ideas, Train, Diesel Horn In Distance, Train Engine
Sound Ideas, Train,Diesel, Passes by Horn Blast - No Doppler Horn No wheels
Sound Ideas, Train Diesel, Approach, Pass by, Horn
Sound Ideas, BELL, RAILROAD - RAILROAD CROSSING SIGNAL BELL: RINGING
Hollywoodedge, Freight Train Close PE064601 - Horn only
Hollywoodedge, Train Long From Dista PE064401
Hollywoodedge, Crash Metal Shatter PE110201
Hollywoodedge, Car Crash Small 1 Shor PE111901
Hollywoodedge, Wood Break Or Shatter PE113401
Image Gallery
Edit
Audio Samples
Edit
Ad blocker interference detected!
Wikia is a free-to-use site that makes money from advertising. We have a modified experience for viewers using ad blockers

Wikia is not accessible if you've made further modifications. Remove the custom ad blocker rule(s) and the page will load as expected.